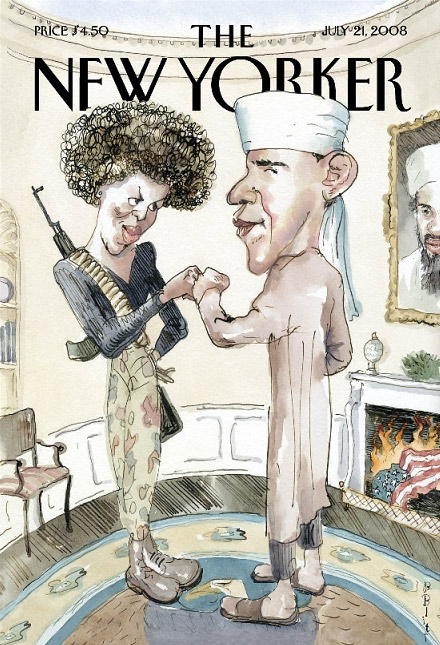 By now you know what's behind The New Yorker's Obama cover; if not, one look at the cover is all you need to jump in the discussion.
Actually, one look at the cover is all anyone is doing. The article..
"Making It: How Chicago Shaped Obama."
15 pages deep, is not the trashing the cover would lead you to believe.
Problem is, no one can get past the 'joke.'
Barry Blitt, the artist that drew the cover, explained what he was thinking to The Huffington Post.
"I think the idea that the Obamas are branded as unpatriotic [let alone as terrorists] in certain sectors is preposterous. It seemed to me that depicting the concept would show it as the fear-mongering ridiculousness that it is."
I saw this kind of satire as something that could become a problem - when it shouldn't.
For his part, Barack Obama has shrugged this off, but some members of his campaign are grumbling about it being offensive and the web is blazing.
Walk through Barnes and Noble and you'll see shelves full of "Bush is an Idiot" books, joke calendars, stickys with the Dubya quote of the day. Put Obama's face on any of those things and it would instantly be labeled racist and the inevitable cries for protest.
Here is another Barry Blitt cover, replace Bush's face with Barack's..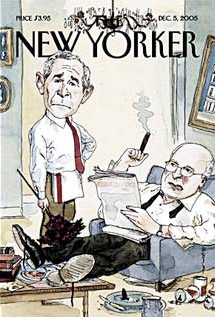 Feather dusting and having beers with the VP? Now imagine the outrage.
This was about Iranian president Mahmoud Ahmadinejad.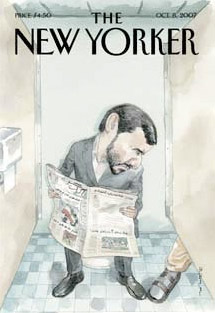 Getting some of that gay footplay.
Part of being equal, on as public a stage as the president, means being open to equal criticism and of course, there will be jokes by late night talk show hosts, comedians, and.. editorial artists.
There is definitely a thin line between racism, and legitimate humor and critique, but Obama's cover slips into the satire slot.
Let's fist bump to that.
Obama 08'