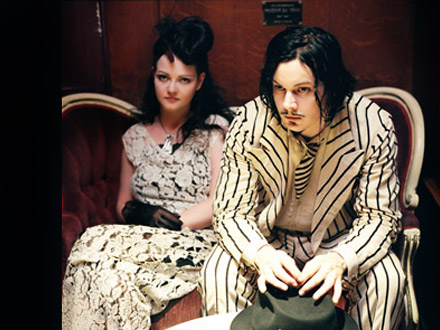 Number one in the UK. Two on the U.S. Billboard charts.
You know how I know Hip-Hop has a foot in its nut sack? Because my 'hip-hop' album of the moment is The White Stripes "Icky Thump." Yeah, while everyone is partying like rock stars, I'm listening to them. It should be noted I bought the album the same day I gave Rihanna a digit on soundscan, picking up her album despite having the ripped web copy; also gave Chrisette Michele's album some much deserved love; and then there was The White Stripes album, I had to have it.
I remember a few years back when they performed on the MTV Awards, looking at them with a blank stare and the outsider's response, like.. "OK, I guess that's what the 'dudes' are feelin'."
Last week Tyrese was on The Conan O'Brien Show, I tuned in thinking I'd get something postable. Tyrese talked about the Shirts Off Tour, Transformers, and chocolate milk making his voice deep, which didn't register as anything blurbable, or maybe it was just overshadowed by The White Stripes performance. Unlike the MTV Awards, this time they caught me. There is something about a female banging out a hard-ass drum beat with a calm "I could do this in my sleep" look on her face, combined with screechy, guitar work and high-pitched vocals supplying attitude and edge, the back and forth between the two, that is so soothing to the auditory canal.
This isn't some teenage, bubble-pop, angst music.
As Conan excitedly described the White Stripe's performance when they hit the last lick.."That's the real thing. I could hear that twice."
The album is more of the same. 13 tracks of loveliness.
Partake.. and let it get to the first break. That's hard!
Albums awaiting purchase: Pharoahe Monch "Desire" and The Beastie Boys "The Mix Up"; diversification is where sanity lives.