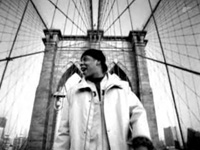 Young Iranians used Twitter to dispute election results; charities collected millions for victims of Haiti's earthquake; President Obama's address was discussed nationwide; and whenever Steve Jobs takes the stage for a new 'groundbreaking' Apple product announcement, it's a hot topic. That said, when nothing is going on in the world, Twitter's trend lists can be pretty ridiculous/juvenile. No intellectual holy water to splash. It's simply a reflection of the conversations people have on the daily; if Jack Dorsey had never sketched his vision of a SMS social network, people would still make those trend list topics public knowledge.
Point proven @ And I Am Not Lying. ← the name of a blog by Jeff Simmermon. In a March 4 post he wrote about a 3rd grader with a list ready made for one of Twitter's uneventful days. In his words..
"My friend's cousin is a teacher at a charter school in Washington, D.C. She found this on the floor of a 3rd grade classroom and recognized it for the gold mine that it is."
"It" would be a list of 90 types of bitches.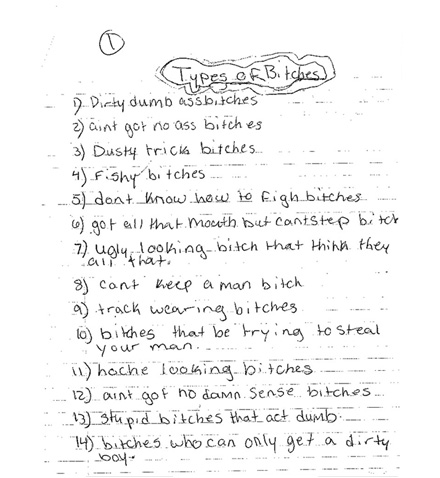 Definitely read the whole story (and list) at Types of Bitches.
Some of this stuff is hilarious - "dry scalp dandruff bitches .. pajamas outside bitches.. bitches who be ignoring you when they know they can hear you.. wearing shoes that be talking bitches."
Ok, it's also sad comedy, because if a girl's shoes are talking she obviously has bigger problems at home. That social pause was covered in a follow-up post, Bitches Lost their Minds. In addition to Jeff Simmermon's plea to settle down, he reposted a Washington DC teacher's reply to those concerned about the young girl who wrote the list.
A Washington DC Teacher's Reply to..

bitches who want to comment on things they have not seen, heard, lived or even marginally appreciated (more specifically.)

don't know a tenderhead bitch
couldn't find a kitchen bitch
can't discern a lingual pattern in vernaculars bitch
tryin to apply this list to your elitist college life, BITCH?
"really wish i could save them" bitches
(who often become) "i'm applying to TFA" bitches
"can i touch your hair?" bitches
bitches who be perplexed that some people don't shampoo daily
"what does a weave look like?" bitches
don't know how to correctly use 'dark, brown, light-skinned or chocolate' bitches
bitches always assumed to be named Sara/h, Ashley or Jenny
brown friends don't mean you're not racist, BITCH
stuck on some double negatives bitches
strugglin to read children's stories by Lucille Clifton bitches
Not sure this teacher is helping; I can only shake my head.. bitches.