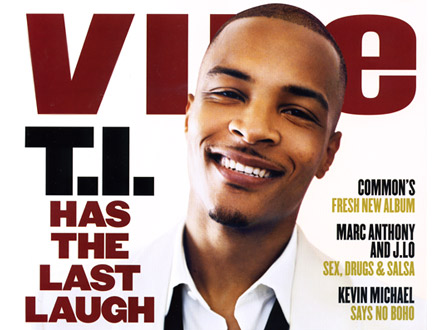 I'm smiling like T.I. on the cover of VIBE magazine, finally able to kick this Expression Engine hard enough so it's at least spitting out the blurbs. Still a few problems with old comments not being counted, new comments slide in and print fine, but the ones I salvaged from the blowout skip the count algorithm. They do print on the page. I save daily from here on in. Enough with that..
Last night during a break I stopped by the newsstand and Habib was getting the latest copies of Vibe magazine. T.I. was on the cover and inside a really good interview to go with it. He talks about Tiny, rapping for money vs. rapping for skill, and gives some insight behind his feelings during that shootout in Cincinnati a year ago and his friend's death. That's too complex to pull one quote from, got to grab the magazine for that.
As far as Tiny is concerned..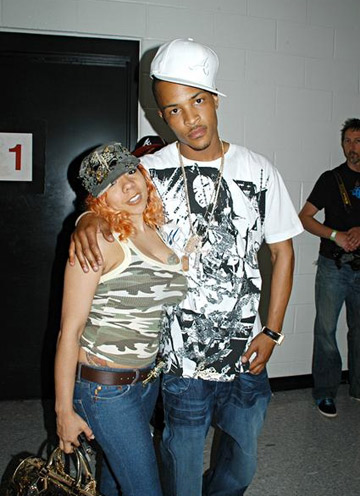 "Shit, that's my old lady. She's very important. She means to me what my mother meant to me as a kid - somebody that you know consistently there, has your best interests at heart, and if ain't nobody else there in the world. [She's] gon' be there. [Tiny's] filled that spot in my life."
But you know with T.I. being who he is, there is the ability to sample women from state to state, almost any kind and time he likes. How does that play into his relationship with Tiny? Does she care?
"I don't know about that. What do you mean? Open relationship? Hell nah.
VIBE: There's been speculation
"What's that mean?"
VIBE: I've seen you in the club.
"No you haven't *laughing* When have you been in my house with me and another woman *cracking up*? All right then. So you do not see anything. It's all right.. I could understand how you could assume.
He goes on to say they've broken up two times before, and he chooses not to say too much more than that, because when certain personal things get out, that's when the sideline critiquing starts.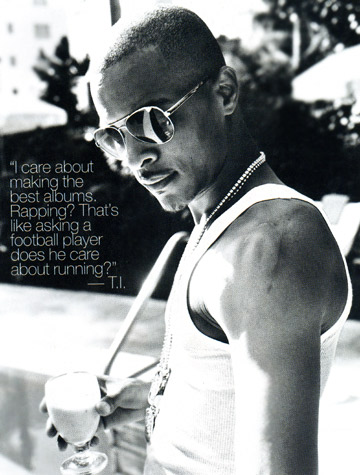 When it comes to music T.I. defends rapping for numbers as opposed to trying to be the best rapper alive, or are those two things one and the same?
"I care about making the best albums. Rapping? That's like asking a football player, does he care about running? A basketball player, does he care about dunking? It's something you do in the process of. You have to know how to rap very, very good to be able to make a great song, which will enable you to become prolific.
When I was rapping a whole lot, it didn't equate to numbers.
When I didn't rap so much, it did equate to numbers. So I figure I split the difference and take the best of the two and combine them together.
If I knew that there was more of a demand for songs like these, then that's what I would do. I'm only gonna make songs that the market supports."
Can't argue with that logic; snippet is the new 320 page book.
His album is sure to be a hot seller, something I'm definitely checking for first week out. We who care for getting our money's worth, can only hope the true last laugh comes from our mouths and is in response to what 'little bit of' rapping T.I. does being absolutely on fire.