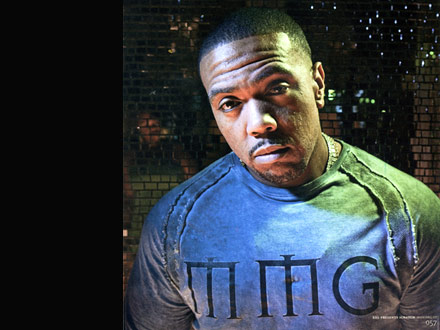 Early this summer, after listening to Timbaland's "Shock Value" again and again, I became convinced it was one of the best albums released up to that point. Here we are messing with pre-Halloween days and it's safe to say it's still at the top of the Whudat Approved list. Despite the dismal sales, the album represents the new hip-hop. What's that?
Timbaland is in the final issue of Scratch magazine and he breaks it down to the bubble.
Oh, the new hip-hop is pop: Justin, Nelly, Fergie, will.i.am. It got harder beats! Any of these pop acts that's trying new things - that's hip-hop. Cause that's what hip-hop used to be - new material. I went to Harvard, took the rich kid and brought him to the hood, got him jammin'. Those are real, hard hip-hop beats.
And he's no fan of your Crankin, Unkin, or A Bay Bayin
It's killing me. The ringtone rap is not fading away. "A Bay Bay," none of it's fading away. If you ask me, it's getting stronger… Nowadays,I think the way hip-hop is going, rappers don't know nothing. They so simplistic, they're like a jack-in-the-box. They just put an 808 behind it and then they got a song.
Hip-hop is terrible. If you not making terrible music, it ain't gon' work.
So what he does is ignore what's considered hot and continue to experiment. Jay-Z is calling him for a song or two for American Gangster, which he's more than happy to do, but he's telling Jigga that he's got to be prepared to take it to another level.
I tell Jay like I tell everybody, 'If you're not trying to go to planet Mars, then I can't work with you.' Cause Jay is too advanced for hip-hop, the way it is today. He knows that. Anything that he does has to be bigger than life. Hip-hop people might criticize him like, 'Nah, that's wack,' or like, 'He sold out, doing pop.' But his album was (is) a big pop record. The biggest record, worldwide. That's what we need right now.
I take that to mean Timbaland has something other than Fabolous's summer smash "Make Me Better" in mind. Timbaland said Jay-Z made a song on the "Make Me Better" beat for the Kingdom Come album, but Jay scrapped it at the last minute and gave it to Fabolous.
As hot as that song is it isn't what I'd consider "new hip-hop."
What that sounds like in a Jay-Z/Timbaland context.. hopefully we'll find out on Mars.