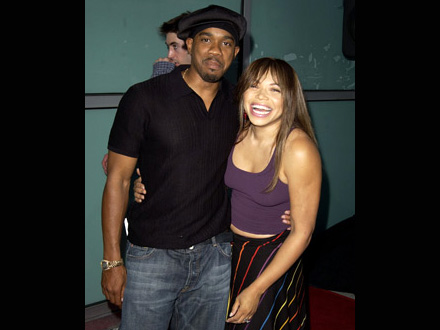 According to some blogs and radio hosts Tisha Campbell and Duane Martin have either split up, are having fist fights, or Duane is somewhere having a Brokeback Lunch with Big Willie. Speaking to Essence, Tisha and Duane laughed at the rumors. Actually they seem to get phone calls from celebrity friends who read the same stuff and they all laugh at each other.
Cedric the Entertainer called about the divorce.. "I just want y'all to know, Dawg, y'all broke up."
Marlon Wayans asked Duane why not him.. "Man, I'm mad at you! We all family. We love you, but the problem is, man, if you been gay all this time, I'm mad because you never hit on me. I'm handsome."
Duane sold his gift from Mr. Smith.. "I was so disgusted with the rumors that I sold it [my Bentley]. What happened is, the Bentley, which I paid for myself, was delivered during my birthday party, and when it arrived, Will, another friend and I jumped in there and turned the music up. Those attending just assumed he'd bought me the car."
Tisha's opinion of the gay rumors.. "Whenever the Black community has leaders, potential leaders or a family unit, we emasculate them. You don?t ever see them do that to Ben Affleck or Matt Damon. On the real, we even did it to Oprah and Gayle. We have to get over that because at the end of the day who really cares?"
Now you're messing with my money.. "I almost lost a deal because of all this gossip. Tisha and I own about six commercial buildings in Studio City, California, and were looking to acquire two other buildings. The realtor went online and read that we were getting divorced and called our clients and said, 'Y'all need to get out of this deal because these two are divorcing, and you don't want to get caught up in the separation of funds and all that kind of mess."
But.. "We're forgiving of the people writing this bulls—-. They don't know any better. You don't go after your people out front who are trying to change things. When you bring me and Tisha down, you're bringing down hundreds of jobs, but they don't think like that. We employ so many people when we're shooting shows and movies and with the sports agency, so you don't want to bring us down like that; it's not a good look."
Tisha and Duane have an autistic son that they're more focused on caring for. Tisha talked about the day he was diagnosed.
"It almost felt like I was mourning the loss of my child. I remember letting out a bloodcurdling scream. I didn't even realize it was coming from me. I was like, Who is the dog making all that noise (laugh)? I was screaming at the top of my lungs, "Why, why, why?" You don't know what will happen because there are so many questions. Is he going to be independent of me? Will he ever say my name? Will he ever say, "Ouch?" All those initial hopes and dreams that you have for your child you fear will never happen, and you don't want your child to struggle anymore than he has to.
God really doesn?t give you more than you can handle, and Duane and I went into this mode - most of the time this kind of thing can break a family apart. But we went into this mode where it was like, "Check this out, homey. I got you here. I'm leading right here."
It's actually a really good article. Forget the snips. Check it out for yourself.