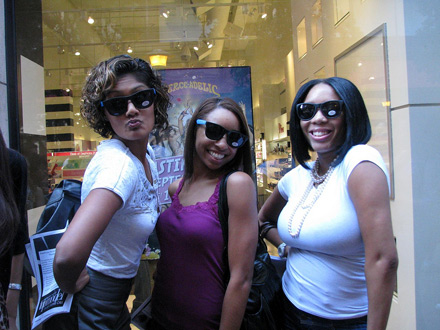 Top Model's 12th Cycle began on March 9. On Saturday, thousands of hopeful models lined up outside the Park Central Hotel in New York City to audition for the 13th Cycle. You can also call it the Shorty Edition: to qualify, models have to be 5'7 and under. That's about the average female height, so the audition drew more contestants than usual.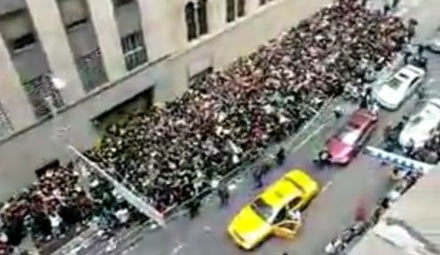 Some women slept outside the hotel in sleeping bags the night before. By morning, there were an estimated ten thousand 'models' waiting.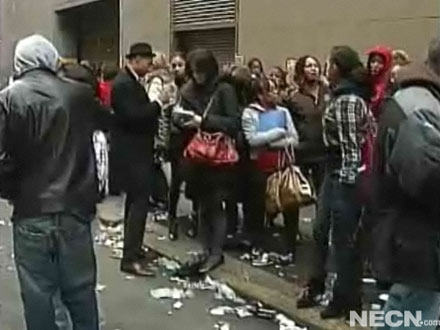 Women were told if they left the line, even to use the bathroom, they would lose their spot. So guess what happens? Trickle down. The tension, restlessness, and discomfort began to spark nerves. Boyfriends accompanied their girlfriends to the audition; girls who argued with other girls; boyfriends who joined their girlfriends in the argument; now, guys and girls are arguing and guys are taking it to another level.
Allegedly, one of those guys said he was going to get a gun. He never came back, but the disorder spilled over and got everyone going Usain Bolt on stilettos.
Top Models. On Your Mark, Get Set, Go!

Needless to say, the audition was canceled.
Three people were arrested and six injured. Given the size of the crowd, that's practically incident free. In the video you'll see the cops break into an ongoing scuffle and put face to concrete. Note: the lovely girls up top had nothing to do with this. For one, they are taller than 5'7 and have more class than y'all short chicks. 😉 *I joke* That's a blurb worthy flick from a Top Model audition in sunny Cali.