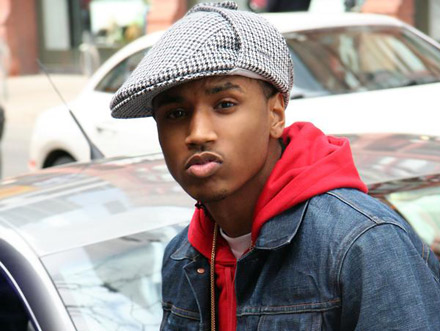 Spin back the hands of time a notch, you might remember a story about Danny Glover having a hard time catching a cab in NYC. How could Glover not be recognized as anything but the star that he is? if it's not Diddy or Jay-Z, guess we all look the same. Trey Songz mentioned a similar experience in a small bit in Giant.
He was in New York for some photo shoots, just finished hitting up some showrooms for new gear, as Trey and his manager left the building..
"Bobby (his road manager) and I were holding about five bags of clothes, thuggin it without a car service. We were outside for like 15 minutes - three brothers in hoodies tryin to catch a cab wasn't happening. I saw an empty cab a block away and hauled ass, but when I opened the door, he tried to pull off!"
"He wouldn't pick up my homies, and he was like, Get ouuuttt!"
"I was hot as a stove, like, "I ain't going nowhere but 55th and 6th!"
"The cabby was lookin' at me hard as hell in the rearview mirror, so I popped off, like "Ain't my fault you drivin cabs."
"The fare was six bucks. I threw a $20 in the front seat and hopped out. He opened the door like he was gonna do something, so I said, "What's up?!" Man, he started talkin' about blowin' shit up, so I peeled!"
"That was the day's highlight."
Umm, when he says that was the day's highlight, you should also note that after eating dinner at City Crab, on the way back to his hotel to watch TV, he said.. "I wish I had a Wonder Woman."
Makes sense, no?