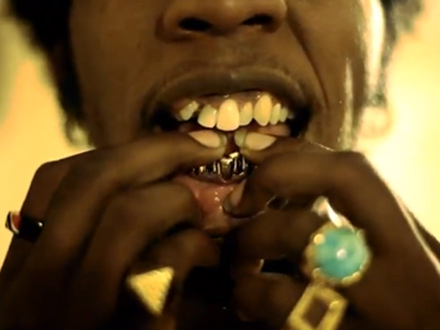 This picture of Trinidad James' teeth is circulating the web. The focus is on the one tooth in the middle and the one missing.
Just one — of both.
On Thursday in New York, Trinidad James stopped at Power 105 to speak with The Breakfast Club. He explained the situation.
"First of all, I just had the bad grill in the beginning; like from birth. And actually we did a show in Athens at UGA and turnt up… tooth came out. In a couple of weeks I'm going to get my joint, turnt up. You know, fixed.
So in a month, he'll be in a dentist's chair.
Why didn't he fix them before the gold fronts?
I don't think he expected to blow up this fast.
This growing spotlight was a Hail Mary that caught on. Trinidad James' short story: he was working and making music; got frustrated; got arrested and decided jail shouldn't be a part of his future. He went back to music with better focus and a better plan. The result (ironically) Don't Be Safe. "All Gold Everything" was the last song on the tape and only made it because, "I needed a hood song."
Which is a point to make, if you hate "All Gold Everything," lyrically, it's the most simplistic song on the tape. Listen to "Givin No F*cks". He can put together sentences.
In the end, it's all about the music.
Even as major labels are lining up to sign him, he's in no rush and plans to stay the path and treat Don't Be Safe like an album. A remix to "All Gold Everything" and 3 – 4 videos are in the works.
All of that and even Jerome was discussed.
Good interview.