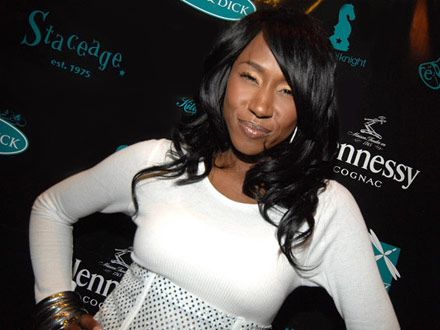 Did you know Tweet is no longer on Atlantic Records? After recording her second album It's Me Again the project got caught up in the merger between Elektra and Atlantic Records. Once the shuffling stopped, the original people backing the album were gone and there were all new label demands and politics to deal with. Obviously the album was released - you might own it - but Tweet decided to leave Atlantic, sit at home, and just be a "Mom." <
< Her word.
Enter former Motown president Jheryl Busby. He offered her a contract on his new label Umbrella Recordings, giving her complete creative control and the promise of backing the project 150% on its delivery date. Tweet took off her Mom jeans and got back in the studio.
Her third album
Love, Tweet is due April 18.
Missy and Timbaland joined Tweet for a song or two, but this time she wants to return to her roots.
Speaking to urbanmusicscene.com, Tweet explained..
"The second album.. Atlantic and I did some more, shall we say, "hip-hoppish" sounds, I kind of compromised. But for this new album, I kind of took it right back to 'Southern Hummingbird'. The majority of the album is what you fell in love with in the beginning.
That and then a little twist. I always have to bring a little something different. But you got songs that would remind you of a motel or a my place or a smoking cigarette or some acoustic sounding stuff that I began with. That's what you're going to hear on my album.
A snippet of a song called "Real Lady" is online. See if you get any smoky visions in your head.
"Real Lady" - snippet
If nothing else she takes a good picture >> Love, Tweet Promo shots below.
---