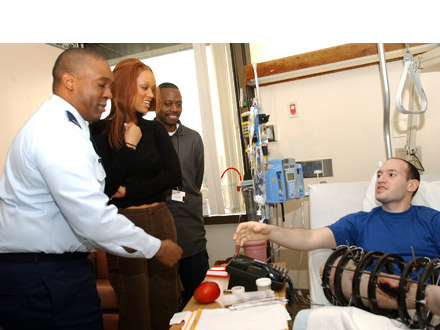 Scraped straight from Page Six..
"She'll go public with outrageous subjects on her talk show, but Tyra Banks is keeping very private about her personal life. Spies spotted the former Victoria's Secret model at Chin Chin on East 49th Street last Friday at a "very private" party for her younger brother, Devin Banks, an Air Force cadet who is leaving for Iraq on Aug. 9.
"Tyra was with her brother and their mom and Devin's wife. Everyone was hugging and kissing and sending him off." A rep for Banks declined to comment about her patriotic family.
Her brother is wearing the white shirt/air force uniform.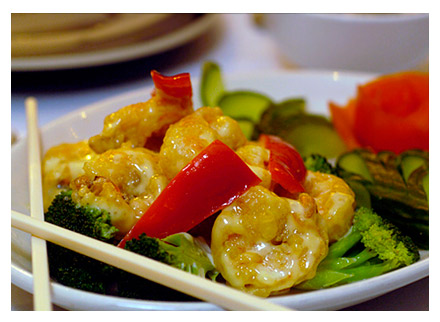 Does Chin Chin make you hungry?
Have a look at that menu. The seafood is gonna set you back..
SEAFOOD
lobster w. ginger & scallions $34.50
steamed lobster w. lemon $34.50
old fashioned lobster cantonese $34.50
jumbo prawns szechuan $24.50
jumbo prawns w. lobster sauce $24.50
pan asian crisped salmon $21.50
steamed salmon w. black bean sauce $19.50
chin chin shrimp scampi $23.50
clams w. black bean sauce $16.50
king crab meat w. spinach $26.50
cha-cha shrimp $22.50
scallops mandolay $19.50
grand marnier prawns $27.50
Tyra's brother has been in the Air Force for 15 years. The picture is from 2003 when the two visited injured soldiers at Walter Reed Medical Center. It wasn't a segment for her show. Like in the piece above she keeps that part of her family on the low. Uh, until now. The Defense Department got celeb happy and posted the pic in their people section.
You'd think supporting the soldiers in Iraq would be something she would want to promote, not to mention that she has a family member on his way to that little amusement park. As a country we really have forgotten that 100+ thousand soldiers are parked in the desert basically on security detail.
Oh well, let's wish that man a safe trip.