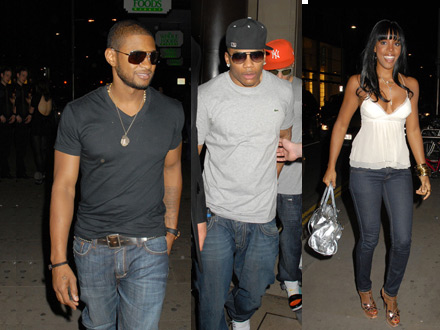 Usher and Nelly performed at UK Radio 1's Big Weekend festival over the weekend. Since they were in the area, yesterday they shot over to London's Amika nightclub. The occasion? Kelly Rowland's last night in London (a slim excuse to throw a party.) Partying from 11:30 p.m. to 4 in the morning, Usher, Nelly, and Kelly (with friends,) racked up $31,000, on liquor alone.
When they walked through the door at Amika, the club owner offered them a $1,200 magnum of Cristal.
Nelly was overheard by a Daily Mail source, saying.. "We don't support Cristal." The club owner didn't understand the problem. Someone else in the group explained the Cristal boycott that is apparently still in force in hip-hop circles. The club owner sent the Cristal back to the bar and four bottles of white-gold Dom Perignon were brought over instead.
With $31,000 spent by the end of the night - that doesn't include next week and month - best believe that Cristal executive is regretting waving off the hip-hop dollar.
*All prices were converted from pounds to dollars as of - 05.12.08, 23:38:05 UTC 😉