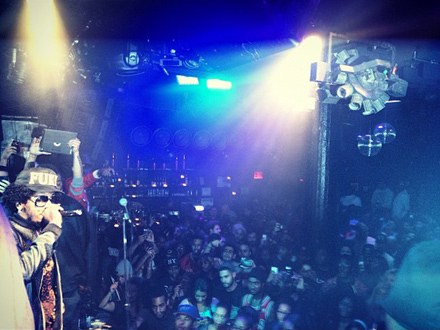 A couple of weeks ago, I stumbled on Trinidad James "All Gold Everything" video, grabbed the mixtape, watched the behind the scenes Gold Chronicles series. You see where this is going? Dude grabbed my attention. Despite that, honestly, I still don't know much about him on a personal level, like what his story is. But his music is entertaining and the over the top outfits and fashion sense is making him into a bit of a character — a key ingredient for success.
Last night, Trinidad James performed at Santos Party House in New York City. The place was packed from the stage to the front door.
Check that crowd reaction, crazy when you consider all that exists, for most, is the video.
Speaking of which, if you don't have the "Don't Be Safe" mixtape, get it now. Through his Molly sweats, musically (and especially when you hear him talk in the Gold Chronicles) I get the sense that there is more to him than cheetah print and a gold grill sneer.
- picture via @djlaser