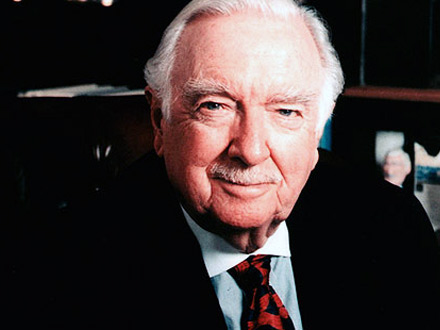 Legendary news anchor Walter Cronkite died today. The cause of death was listed as cerebral vascular disease. He was 92. In an era long before Tweets and blogs, Youtube and podcasts, Walter Cronkite was considered to be America's most rusted source of news. He was the shining example of what a news anchor should be and inspired a generation of reporters. Via Twitter, NBC's Ann Curry was quick to supply me with quotable material.."Watching Walter Cronkite cover Vietnam and the Civil Rights movement is why I became a journalist. Cronkite's legacy includes his worry that journalism has become too soft, too vulnerable to financial interests."
Walter Cronkite's first CBS broadcast was on April 16, 1962. At that time news broadcasts were only 15 minutes long. Likely because of all that was going on during the 60's, a year later his show was expanded to 30 minutes. Walter Cronkite's first half-hour broadcast featured an interview with then president John F. Kennedy. In 1992 CBS's "Up To The Minute" replayed excerpts from the show, including the classic commercials. Here is 10 minutes of it..
And look at this (!) a student at the Walter Cronkite School of Journalism.
She speaks at 0:20
Walter Cronkite's nightly sign-off was.. "And that's the way it is!" Guess, what? That's the way this ends. R.I.P.