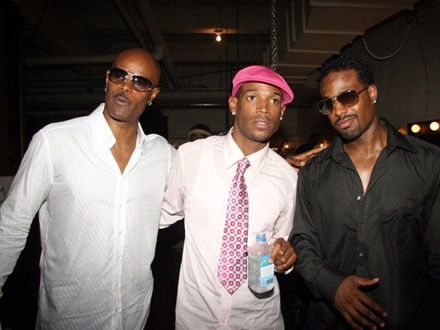 Shawn Wayans was on 106 and Park today, when asked what projects he had in the works ("he" really means we, as in all his 25 brothers and sisters.) Shawn responded, "We just sold a series to VH1. Like a black Entourage, but more funny." He also mentioned they were doing some writing for an upcoming Munsters movie. The Wayans won't be in it, just putting fingers to keyboard.
Do we really need a black Entourage? Especially if it's going to be 'more funny.'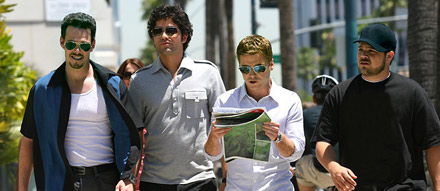 Entourage is a show I blocked out for a long time, it was like, "Who are these cheesy pop tarts?"
It was a King article about Lauren London appearing in the new season that got me watching.
I went to a site, I won't mention here, watched the first season. It only took two episodes to get hooked, put some other slackers on to it, they got into it and picked up the other two seasons on DVD.
Even though Lauren London was the bait (she lasted all of three episodes) Entourage's appeal is the idea that it's the real life of an actor (and his neighborhood friends) in Hollywood. The funny shit that happens is in the context of that reality; meaning, it's believable shit. Taking that reality and making it sitcom funny, sounds cheap.
Any reality showing black life in the entertainment business would have to be about music artists, unless it's going to be about how hard it is for actors to make it in the business. Not artists turned actors..
Let's be real here, Black Hollywood is the size of a city block at best. It's crazy to say that with so many black movies and movies with black actors coming out in the next few months, but it's hard to imagine a black Entourage, because the reality is superstar black actors aren't running around Hollywood in a wild and crazy way.
VH1 picked it up though. Maybe the Wayans put a good twist on it.
Maybe they will BE the Entourage. That would make a lot of sense considering VH1 is celebrity reality show central, and their life would be funny by nature. Wayan's brother reality? Now that I like. Bookmark this til showtime.