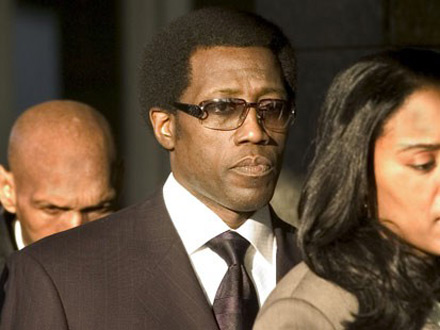 Today a judge in Ocala, Florida, sentenced Wesley Snipes to three years in jail. The maximum sentence for tax evasion. Despite the best efforts of family members and Hollywood friends like Woody Harrelson and Denzel Washington, who vouched for Snipe's good character, and an after-the-fact, written admission by Wesley Snipes..
"I am an idealistic, naive, passionate, truth-seeking, spiritually motivated artist, unschooled in the science of law and finance.".. the judge thought the harsh sentence was necessary to put a stop to people the IRS are calling tax defiers.
Tax defiers believe the government has no right to take a chunk out of US citizen's earnings. They either file returns stating zero income or don't file at all. In addition some people file for refunds of taxes they've paid in years past.
According to the IRS, Wesley Snipes owes $2.8 million from an unreported $13.8 million.
In February, a jury acquitted him of two felony charges for false refund claims and three misdemeanor failure-to-file charges.
He was found guilty of not filing claims for 1999, 2000 and 2001.
Prosecutors held up a NY Post headline about the February ruling - "Snipes is Now Tax-Free, Beats Heavy Rap and Walks With Wrist $lap" - to say he couldn't walk away from this with a light sentence; as it would embolden the tax defier crowd.
Because Wesley Snipes was convicted of misdemeanor offenses and has no prior record, his lawyers asked for probation. No go..
"In my mind these are serious crimes, albeit misdemeanors," the judge said.
Wesley Snipes got his tax ideas from Eddie Ray Kahn, founder of The American Rights Litigators and The Guiding Light of God Ministries. <
<
An alleged front for a tax protest organization
. Kahn refused to defend himself in court; he was hit with 10 years.
Douglas Rosalie filed Wesley's taxes, he was sentenced to 4 1/2 years.
Wesley Snipes got three, a year for each misdemeanor conviction.
Snipes and Rosalie are still free.
Authorities will tell them when to turn themselves in.