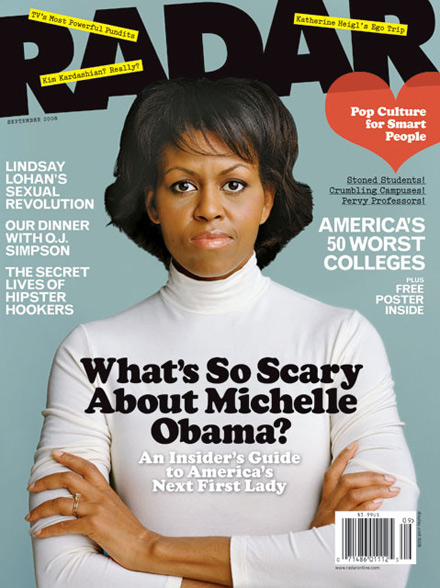 Step to the rear, Tyra.. Michelle Obama is the cover girl for this month's Radar. What's so scary about a mother of two children/Princeton graduate? You'll have to pick up the magazine. I'm guessing it has something to do with her love of machine guns and a wrinkled black militant to-do list ready to go once her husband secures the presidency. I joke, of course. And Radar's 'smart-pop' edge wouldn't allow the article's theme to be that blatant.
Judging by Ana Marie Cox's (the writer of the article) previous Obama ruminations..
"I can't figure out if the seemingly endless stories about how some people believe dangerous crap about Obama are an accurate reflection of a disturbing and growing trend or if it's a result of journalists' bizarre wishful thinking.. Election day won't tell us much, either, unless all those gullible racists actually tell exit pollsters they voted against the gay black terrorist. And if he wins, well, we can ALL take credit, right? We're not racist anymore, world! We proved it!"
Expect a Michelle Obama ain't that scary, but she sure is feisty kind of thing.