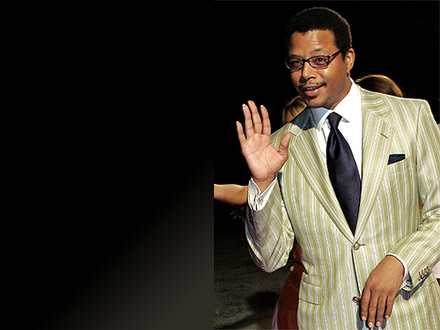 Terrence Howard didn't get an Oscar for his performance in Hustle and Flow, but at some point in this Matrix we live in, Terrence convinced an A&R guy that he has what it takes to be a music artist.
Word from the Hollywood Insider is Terrence Howard just signed a deal with Columbia Records.
The name of the project is Terrence Howard Presents Me and the Band. He'll be singing instead of rapping and have musical backing by a live band as opposed to ProTools.
In an interview with UGO, Terrence said the album is called "A Little Bit More Like Me" and talked about the process..
"I wanted to produce and write. The only thing I didn't do was play all the instruments because I only play guitar, piano and some cello. But I brought in the most incredible musicians and left them in the room to do what they do, gave them complete autonomy, and they gave me gold. People always give you their best if you give them the room to give their best."
Why take a stab at the music business?
"The purpose of that is to always extend beyond your reach. I'm looking for the fall, I'm looking for the flop, the criticism, because I do well with that. My little brother told me when I was scared to go start my music, he said, 'A diamond is just a piece of coal that did well under pressure. Decide which one you're going to be."
A Columbia Records rep said the album is scheduled for release this fall.
Grab a few copies as stocking stuffers for the holidays. << got jokes.