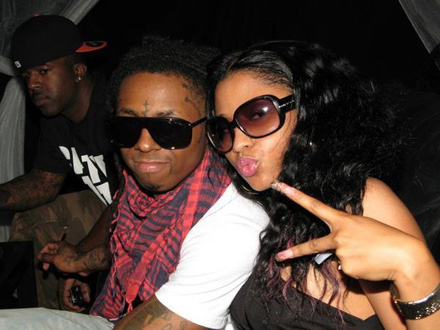 Nicki Minaj is a name I've seen around the web a few times; she's down with Lil Wayne's Young Money Entertainment, but she's from New York. Her face popped up in XXL's "Show & Prove" section. I think I gave one of her songs a quick listen and wasn't that impressed.
Maybe it'll take three or four times before I'm a believer. This happens. This Truth DVD Nicki Minaj interview clip will keep that multiple impression window open.
In the first minute or so, she says.. "I got love for all female rappers. I do think that it's time for some new blood. For some new bitches in the game that's actually about something."
Which was my problem with her.. I didn't hear her saying anything 'about something.'
But we're doing that multiple impression thing..
"I come from Southside Jamaica, Queens; 50 put us on the map. So the next thing on my agenda is to be the female 50. Because it's important to do music, but it's also important to get your paperwork right. Get your business right. So I want to be the female 50 when it comes to how he became a mogul in a very short period of time. So I have a great team of people around me and we're building the Nicki Minaj brand..
People see me on DVDs and they think that I'm on some crazy.. like, there is nothing stupid about me. I'm very, very well prepared. So you guys are going to be seeing a lot of endorsements and things like that coming very soon."
Amazingly, that qualifies as.. saying something. I mean that in a good (contextual) way.
Ok.. where's this mixtape? ..
Maybe this is on it.. labeled her 'newest song'
Nicki Minaj "Biggest Freak"