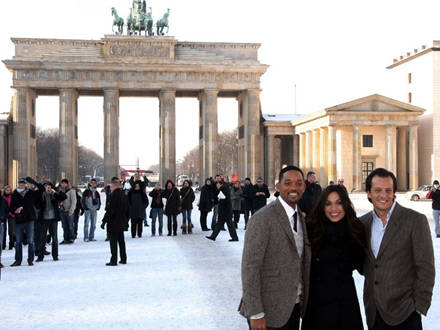 Over the holidays, Seven Pounds, the take my body parts for free, epic, passed the $60 million mark. Not Will Smith's biggest hit, but enough to clear the $55 million it took to get it on screens. It was all extra anyway. This week Will Smith was tabbed as Quigley's top box office star of 2008. Quigley polls are regarded as one the most reliable indicators of an actor's star power. Hancock's $228 million put Will Smith ahead of Iron Man (Robert Downey Jr), in second, and The Dark Knight (Christian Bale), in third.
The machine don't stop, though. Yesterday, Will Smith, Rosario Dawson, and director Gabriele Muccino were in Berlin to give the Germans a piece of themselves. ← that's a little seven pounds, literal humor.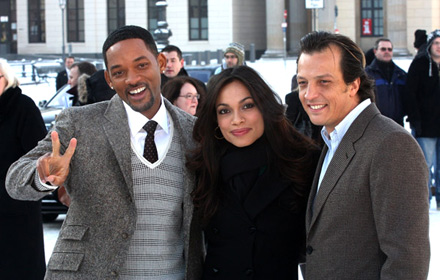 I don't want to see Will and Jada go to splitsville, but these two do look good together. It's not just this picture, you saw them in the movie..
Oh wait, you didn't. That's why Sony movie execs are scratching their heads.