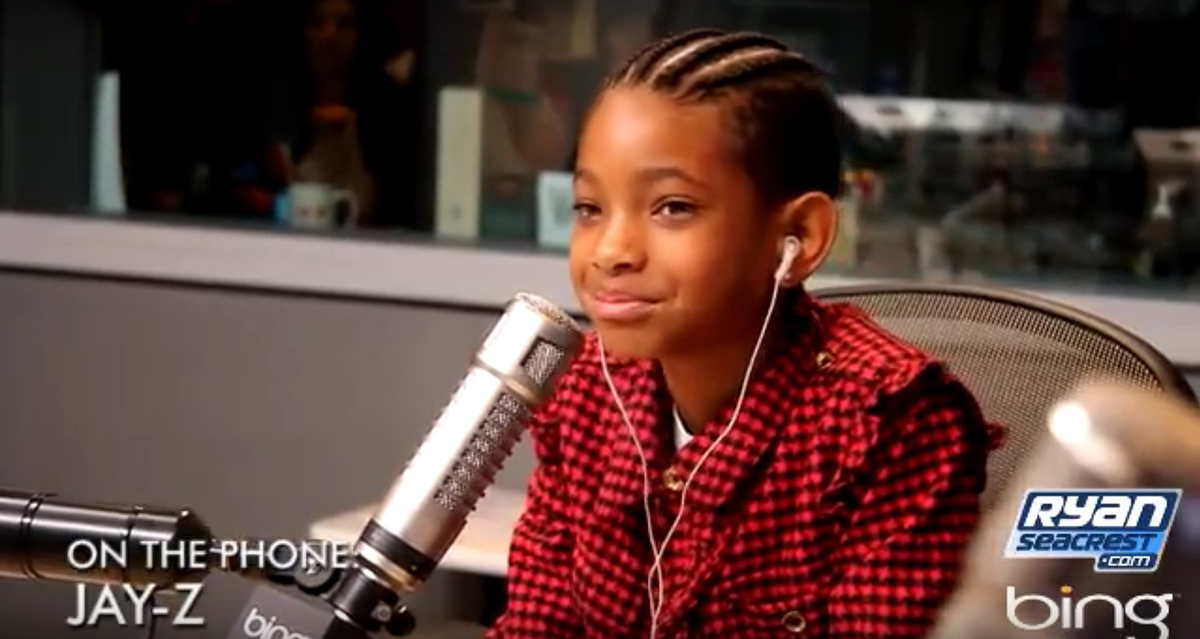 Back in July, Jada Pinkett-Smith, put us on to her daughter Willow's budding singing talent. Quick recap: "Let me tell you, she's 9 years old. I don't know where that voice came from. She sings like she's a grown woman. Like she's been around. I'm like, 'where does all that experience in your voice come from?' I have no idea, but she's something. Music is her thing."
Now it's officially the start of a new career. Willow Smith has signed to Jay-Z's RocNation. This morning, Willow was interviewed on the Ryan Seacrest show. You've seen her wild doo in pictures (the one up top is actually an earlier one;) by the way she carries on a conversation it is hard to believe - like everyone says - that she is 9 years old.
"Whip My Hair" is Willow's first song. Of course, Ryan Seacrest asked her..
What does 'Whip my Hair" mean?
"It means just be an individual. Like you can't be afraid to be yourself. You have to be yourself and you can't let anybody tell you that that's wrong."
And how do you know to think that way?
"My mom and me are very strong individuals and I just know that because lots of people, they don't act like themselves, so they're not happy."
During the interview, Jay-Z called in and said "Whip My Hair" was the song that caught his ear. He said he didn't know it was Willow until after he heard it. Jay-Z talked about meeting Willow for the first time in Japan. He said her maturity level, the way she decribes exactly how she feels, is one indication that Willow is going to be a superstar.
Jay-Z also saw similar things in 16-year-old Rihanna.
So what's the plan to start Willow's music career?
Jay-Z → "Just to facilitate all of her ideas. As you gonna learn today, you sit with her for a half-hour, you'll see she's a wealth of information and ideas."
I'm predicting big things too. With a creative mind (that hairdo was her idea,) and Will, Jada, and Jay-Z guiding Willow along the way, she's going to be well prepared for all of the challenges, accolades, and buckets of criticism that come with the music business.