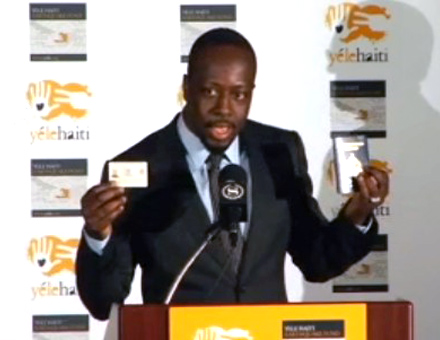 On the heels of the earthquake in Haiti, Wyclef posted a message on Twitter to send $5 in support to Yele Haiti, his charity organization which was established in 2005. The response was tremendous, since then Yele Haiti has collected several million dollars. The climb up the Twitter trends and attention on CNN got the interest of dirt digging site, The Smoking Gun. Last week, they posted Yele Haiti's 2005 - 2007 tax returns and questioned why Yele Haiti expensed a little over $400,000 to companies that Wyclef has a personal interest in. The implication being Wyclef is skimming money from the charity's fund.
On Saturday, Wyclef returned from Haiti to denounce the accusations. He posted a message on Youtube explaining the money to the production companies were a part of operating expenses. If a concert is held, lights, equipment, etc., must be paid and the charges to Yele Haiti were all below market rates.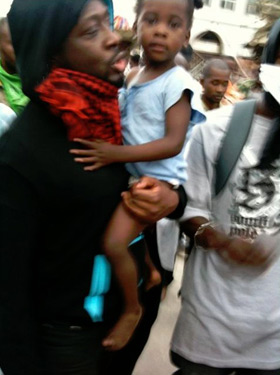 One might still ask if the production company need be one Wyclef is also associated with, but in a new CNN article "Wyclef Jean tearfully defends charity" they say there is nothing mysterious about the expenses.. "tax experts say it's routine for individuals to charge their own charities, so long as services are being provided in return. 'The tax rules do not prohibit related party transactions,' said Marcus Owens, former chief of the IRS unit that oversees non-profits."
Those tax experts do question why the charity filed 2005 - 2007 tax returns late. This afternoon at a press conference, Hugh Locke, president of Yele Haiti admitted, "We should have been on top of it; we were not." Wyclef added, "Yele's books are open and transparent, and we have a clean bill of health by an external auditor every year since we started."
You can see the press conference here. Yes, CNN described it correctly, Wyclef gives a tearful explanation of his love for Haiti and the accusations against his charity.
As with any 'scandal' it's easy to throw mud and tear someone down, but when the truth requires more than 5 minutes or 2 paragraphs it's unfortunately lost to the scattered attention spans of the day.
Personally, I appreciate Wyclef's openness and barring any more 'questionable' information, stand by him on this.