On one hand you hear of a new Fugee album and think, "Umm, aren't they called the Black Eyed Peas now." On the other you realize that BEP are like the little cousins that soaked up the Fugee formula, yet something was left in the sponge. The Fugees had the perfect blend of commercial, soul, and hip-hop that has yet to be truly duplicated. Given the right circumstances a new Fugee album would prove that and inject a welcome dose of creative spirit into hip-hop.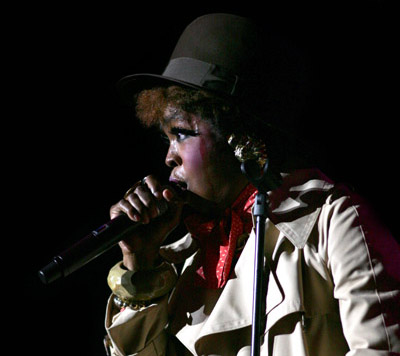 Of course with Lauryn Hill looking as off-center as ever since shunning the celebrity life for babies and hard-to-grasp spiritual beliefs, that reunion might not be such a great idea. And who knows where Pras stands - although I suspect his only job would be to do just that, stand in the right spot.. thanks Pras.
Despite their problems with each other, since the surprise performance on Dave Chappelle's Block Party, there have been talks of a Fugee reunion that's seemingly on an on again/off again diet.
The latest being.. it's off.
In the new issue of Scratch magazine Wyclef reveals the reason for the delays: Lauryn Hill wanting to make beats.
What's up with the Fugees reunion, or lack thereof?
"I'm officially Paul McCartney from the Beatles now. If the Fugees wanna come back you can't break the format. Don't come back and be like, 'I wanna produce a beat.' That's like me saying I wanna sing an R&B vocal. When we was working on the album, I was like, [to Lauryn], 'You need to do this like this.' [And] she says, 'How do you know what's relevant? I haven't heard anything from you in the past like three, four years?'
The minute she said that I was like, I gotta go back to working [on my own.]"
So what's ultimately holding you guys back?
"Lauryn is straight up the problem, bro. She wants to be a producer. Don't come telling us how to chop up beats so you can get credit for it."
What makes you think she would take the credit?
"We did a remix with Lauryn Hill for John Legend, for the record "How High." John was saying our names. You know what she had him do? She was like, 'Take off Wyclef and Jerry's names.' Because she wanted people to think that she was the one doing the beat. I'm a producer and a beatmaker with my cousin Jerry Wonder..
I'm a writer. She's a writer, a vocalist, and a great composer. She's great at picking out samples - she got 20 billion samples but can't chop em up to save her life."
So she hasn't made any of the beats she got credit for?
"It's real simple - if you did the beats, where are the beats?
Show us one beat that you did.
If you bring Clef in to the studio, put an MP, put an SP, .. bring a bunch of cameras and say, 'Clef do a beat in two minutes.' The beat's done! Bring Lauryn Hill in the studio with the same camera - say we give you three hours. Matter fact, fuck it, we'll give you a month - do a beat. She can't put it together!"
——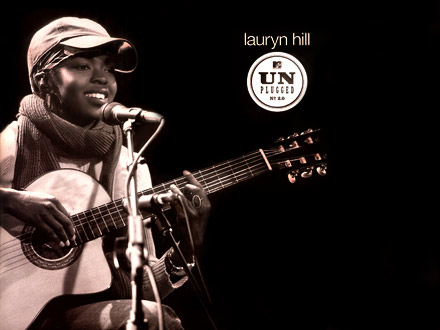 Hmm, maybe that's why she was strumming a guitar for 90 minutes straight on her last solo album.