September 9, 2006

Christina Milian Is Not Broke...Or So She Says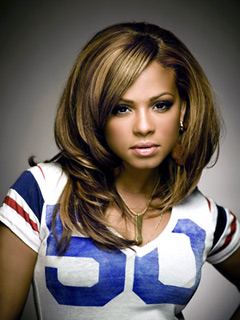 Last week, I briefly mentioned singer/actress Christina Milian being out of a record deal and selling her clothes on E-Bay. Christina has a Myspace page where she blogs her personal life and shares details of what she's doing with her friends, fans, or whoever. She mentioned that she had given away a bunch of her clothing to charity and decided, for fun, to sell some on E-Bay. She claims that she has always been interested in E-Bay and thought it would be fun to become an E-Bay seller. Tabloids and other journalists have been reporting that she is broke and that is the reason for her auctioning off the clothes off her back.
They have pissed Christina off and in her latest blog she goes off on a tangent about she is not broke, and is making more money now than ever. She says, "ok guys I need to respond to this for those of u who have read any of these STUPID writeups from these little tabloid websites. i am NOT BROKE!! i AM negotiating a new record deal with another label. i am NOT BANKRUPT EITHER! i have made plenty and enough money in all the different areas of my career and the fact that i am not with defjam anymore doesn't mean i am not making money. i'm prob making more money now! believe me. the fact that i am selling stuff on ebay is strictly for FUN and sumthing i always wanted to get into...that is it!"
That was quoted exactly as it was written on the blog, so please don't kill the messenger.
Christina goes on to say, "I am happy i'm not announcing every little venture i have coming up in my career cuz all the haters and wack tabloid sites are just gonna throw negative energy on it and im tired of that and dont need that in my life right now. So to the immature writers who get all the fake gossip started, how bout u check with the REAL sources first and stop assuming." If you want to read it directly from the source, feel free. www.myspace.com/christinamilian.
Okay, first of all, just because she is selling her clothes on E-Bay does not mean or confirm that she is in fact broke. I like Christina Milian. Not a fan of her music or movies, but I like her. She is always so personable and likeable in interviews and things of that nature. I must say that I find the fact that she is going so hard to prove that she is not in a financial bind reeks of there being some type of money issues.
I do recall Christina writing songs for a few artists back in the day, one of them being J-Lo, so she may very well be getting publishing checks.
At the same time, I am not under the assumption that she is sitting on as much money as she claims. None of her projects have been hugely successful. While I'm sure she's not in dire straits, I'm equally as sure that her money isn't as long as she would like folks to believe.
I don't know what all these projects are that's she's working on, because it seems that she spends a vast majority of her time blogging trying to set the record straight. If she's not broke, she doesn't need to prove that to anyone but the people she pays monthly bills to. Seriously. Let your cell phone provider, mortgage lender, and the like know you're not broke, by paying your bills on time. The rest of the world. Screw them.
The fact that anyone is talking about her at all is what she needs to be focused on. Let them talk. If you are working on so many great things, show the world. Christina is spending way too much time trying to validate things that are really none of anyone's business. She doesn't have to answer to any gossip, journalist, fan or anyone of that nature. Is she broke, who knows? I believe her when she says that she's not broke and I believe that she is working on some things.
I think she should stick to acting, as singing is really not her forte and I can't see her ever being that popular as a recording artist. She claims that Def Jam didn't properly promote her last album, which may be true, but even if they had, I honestly believe that it would have just been more money that they wasted.
I wish Christina well in her future endeavors and I also wish that she wouldn't take people who shouldn't matter to her so seriously. She is talking about them talking about her, but she just keeps giving them more and more ammunition, by lashing out at them. The fact that she needs to get hooked on phonics is another matter entirely. Maybe school should be one of those projects she has in the works.
On another note, Christina's blog is pretty cool and she is really in touch with her fans. She even calls them on the phone. I love when entertainers are that interactive with their fans. At the same time, she gets them way too involved in her life, which is her choice, but still. When you put that much of yourself out there, people are going to talk. Be concerned only when you're not important enough to get anybody to talk about you.
Monica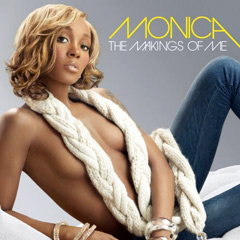 Singer Monica Arnold is gearing up for the release of her 4th studio album titled,"The Makings of Me". Monica claims that this album is more "her" than any of her previous albums. She spoke with MTV and told them, "This album is very, very different from the other ones, because of me personally. The first album, I was 13 years old. Now, at 26, the way I look at things, even relationships, I was really able to involve more of my life experiences in the album. And that made for some crazy songs."
One such song is "Sideline Ho", where Monica admonishes her boyfriends mistress as being just a sideline hoe. The lyrics of which probably didn't write and seems very proud read: "It don't matter if he spends the night, his home's somewhere else/ If you don't make his breakfast, you's a sideline ho!"
Monica says, "That song has been shutting down a lot of Internet sites. Because I talk about when I was with someone back in the day who cheated on me in the most malicious, deceptive ways. And when I referred to the chick, I always referred to her as the 'sideline ho,' because she was too comfortable with her position."
She concluded with, "I think the honesty of the record is what will hopefully help people gravitate to it. I don't want to do anything contrived. I want people to know I've been through the same situations as them and that's why I share so many of my personal experiences. In the process, I've still been able to live my dreams, and I want people to see that side of it."
Okay, I love Monica's voice and have generally enjoyed a lot of her music over the years, but this girl is getting so ridiculous. It seems like she continually takes steps backward. Monica has already established that she is pretty much a girl from the gutter and doesn't really aspire to be anything more than that. I get that. But this album sounds like it is on pace to be her worse yet. If her lead single, "Everytime the Beat Drop" is any indication of what is to follow, this can not be good for her career. I hate that song and it doesn't sound like Monica at all. It is entirely too vocally simplistic and sounds like something much more fitting for say, Ciara or Cherish. Monica actually admits that "Everytime the Beat Drops" is her favorite song on the album and therein lies the problem.
I have yet to hear "Sideline Ho", but the idea of the song is really pretty trashy. It makes Monica look like an idiot and the sideline ho seem all but genius. I think if this album does as poorly as her last album, Monica needs to just give it up. She seems way more interested in being a hoodrat and keeping up with the Jones' in ATL than actually taking her music seriously. I could be very wrong and this album could be a classic, but somehow, I just don't see that happening.
Ronald Isley Sentenced
Singer Ronald Isley has been sentenced to 3 years and one month in prison for tax evasion. Isley was ordered to pay $3.1 million in back taxes. Last year Isley, who is 65 years old was, convicted of 5 counts of tax evasion and one count of willful failure to file a tax return. His attorney argued that he should receive probation due to a recent stroke and bout with kidney cancer. The attorney also argued that Isley was unable to get ahold of proper financial paper work because two of his accountants died. All of these arguments were to no avail as Isley will serve his entire sentence. He will be placed in a prison hospital facility, which does seem slightly better than the alternative.
I'm sorry to hear that Ron is going to jail. I hate for people to go to jail, unless they've committed some vile act against another human. With that said, what kind of back alley accountants did Ronnie have, that they died and all his paperwork kind of just went with them? Sounds shady. Whether or not he evaded his taxes on purpose, I don't know, but I do feel sorry for him. I really expected for him to walk away from this with probation, but they apparently mean business.
Tamyra Gray Gets Married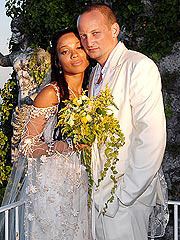 Former American Idol contestant turned actress, Tamyra Gray was married in Capri, Italy recently. People magazine reports that Tamyra married longtime boyfriend Sam Watters, a member of 1990's r&b group Color Me Badd. 27-year-old Tamyra met Watters, 36, when he wrote, produced and arranged songs for her debut album. Since his Color Me Badd run, Watters has written a number of songs for various artists, including Celine Dion, Kelly Clarkson, and Jessica Simpson.
This just seems so out of nowhere. If anyone remembers Color Me Badd, Sam Watters was the one with the long stringy curly hair. From the pictures shown of their wedding, he seems to be bald or at least almost there. They look happy, so I guess congratulations are in orders.
Nas and Kelis
Yesterday hip-hop artist Nas and his wife Kelis appeared on BET's 106 and Park, to premier the new video for Kelis' song "Blindfold Me", which features Nas. They were interviewed by Rocsi and Terrence, the current hosts of the show and when questioned about sitting with Beyonce and Jay-Z at last week's MTV Awards. They were asked if they are friends with Beyonce and Jay. Kelis very abruptly shut them down by saying, "Uh, we were working."
I am imagining that she wanted to get it out of the way that in no way are they friends with B and Jay. This is not the first time that Kelis has made it pretty clear that she is no fan of Jay-Z or Beyonce. Kelis also made clear yet again, that she is the first chick to scream on a track, no matter who else may be doing it now. Yeah well, tell it to Pat Benetar. I am a little tired of hearing that she was the first chick to scream on a track. She is talking about this like she's the first woman president of the United States. It is really not that big of a deal.
Then at one point Nas began shouting that he and Kelis are the "hottest couple in the game". He said he was just kidding, but Kelis seemed to believe him wholeheartedly. I think they're a great as a couple, but I am not disillusioned, they are the lower rent, married version of Jay-Z and Beyonce. I'm sure there were no bad intentions on the part of Kelis and Nas, but I thought their responses were interesting. I also just like to make something out of nothing.
Rocsi and Terrence
While on the subject of "106 and Park", is it just me or are Rocsi and Terrence the worst hosts to ever grace that show? While I still can't find any positive adjectives to describe the previous hosts, they were all so much better than these two idiots.
Their interview questions suck and they seem so clueless about every damn thing. I've seen their guests look at them as if they were the dumbest people they've encountered and I mean really, Mensa isn't really beating down the doors of any of the artists on "106 and Park".
I'm not really a "106 and Park" watcher, but when I do tune in, Rocsi and Terrence just make it so damn hard to pay attention to the show. Their stupidity is so distracting.
Just had to get that off my chest.
Lauryn Hill and Family
I happened across some pictures of Lauryn Hill, her children and their father. Here are pictures of Rohan, Joshua, Selah, and Zion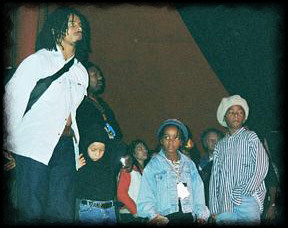 Lauryn and her youngest son John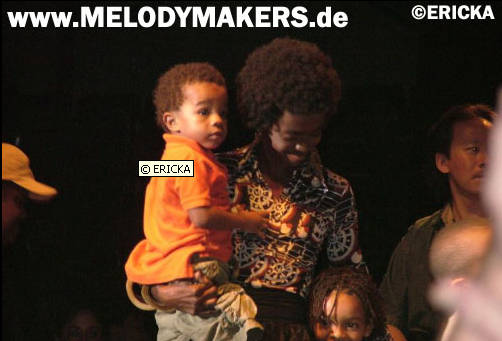 The pictures aren't the best, but I think it's interesting to finally see these children. Their mommy has been so crazy for so long, I almost forget that she's actually raising small children. It looks like they're cute kids and the little girl looks be Lauryn's mini-me. I really hope whatever chemical imbalance Lauryn has been struck with is not passed down to the babies. Mental disorders tend to run in families.
Beyonce
Singer Beyonce celebrated her 25th birthday on September 4, a day before the release of her album "B'Day". Though it has not been confirmed, rumor has it that her boyfriend Jay-Z bought her a $1.2 million dollar 1959 Rolls Royce.
I'm sure the car is nice, but what in the world is she gonna do with it? That seems like something that might be used in a video, but not something for her to be driving to grocery store in. Maybe it's what she wanted though.
Speaking of Jay, It is rumored that Jay-Z is planning to step down as president of Def Jam in the near future. I have no idea if there is any truth to that rumor, but being that it isn't being widely talked about, chances are it is false. It probably wouldn't be a bad idea for him to get out before he completely sinks that label. I have been waiting for him to be forcefully removed from his presidential perch, maybe the rumors mean that is going to happen soon. I am merely speculating.


- reported by Keshawnta J.
Comments to Keshawnta
.