Angela Simmons' Rundown First Issue - 2:24 p.m.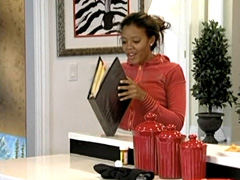 One of the highlights of this season's Run's House was Angela getting a magazine deal. Actually she's on a trial run: a 16 page pullout included with the next 6 issues of Word Up!. Now I can't tell you the last time I bought the magazine.. probably stopped when I found the third or fourth issue of The Source. The one with Malcolm X on the cover. Imagine that happening today - the X man on any hip-hop magazine's cover.
In any case I hunted down an issue of Word Up! to check out her first issue. Flipped right to the editor's page..
From Me To You
Hi Everyone!
Welcome to this preview issue of Angela's Rundown! I am so excited about this new magazine. The whole idea of the Rundown came about after I graduated from the High School of Fashion Industries and started my education at The Fashion Institue of Technology. I really love fashion and music. I wanted to share my knowledge about both with you, as well as great articles to motivate and help young people in their day-to-day lives.
This issue features some of today's hottest music artists, one of the most popular fashion icons around, cool fashions, great beauty tips, the 411 on getting your act together for back to school, and some great "words of wisdom" from my dad - Rev. Run. My magazine represents me, full of love and knowledge, and always in style!
I want to thank you for reading this issue of Angela's Rundown. Always remember... love conquers all! - God Bless, Angela Renee' Simmons
The rest of the magazine is pretty much what I remember reading in Word Up! as a teenager: interviews that a kid (okay.. a teenager) will read, fashion tips, and pictures of popular artists that you might tape on the wall. In this one.. Rhianna. It think it definitely has potential for the market she's aiming for. To a thirteen-fifteen year-old Angela's a big deal. She'll do a great job with this. I think the people at Word Up! realize that already, considering they've inserted her as an executive editor for Word Up! and her own magazine hasn't fully launched.
If Word Up! has a website I couldn't find it. Thought a part of the pull out would have been posted. Nope. Since it's a "free" pull-out, no reason that the world shouldn't see it, so I took the liberty of scanning the entire 16 pages of this first issue. A grown man isn't gonna be buying Word Up! on a regular basis. Already the guy at the newsstand was looking at me kinda funny, I played it off like it was for my niece or something. :]
They want feedback on this.. I'm looking. No email address either, feedback is supposed to be cut out and mailed to the office. Umm. When was the last time you picked up a stamp?
They'll work it out - 1 - 2 - 3 - 4 - 5 - 6 - 7 - 8 - 9 - 10 - 11 - 12 - 13 - 14 - 15 - 16
$item = "../comments/angelasrundown.txt"; $counter = 0; $counter = howmany($item, $counter); if($counter == 0){echo "";} if($counter >= 1){echo "";} ?>