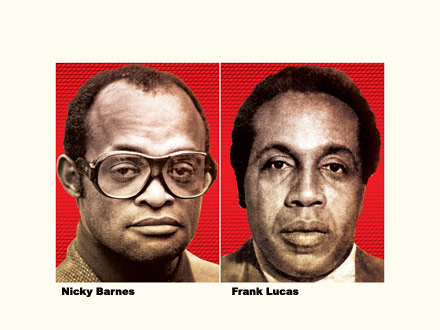 On the eve of American Gangster's opening weekend, New York magazine was able to get Frank Lucas (played by Denzel Washington) and his rival, Nicky Barnes (played by Cuba Gooding Jr.) together for the first conversation between the two in 30 years, "Lords of Dopetown."
Like most dealers who've left the life, especially when it's involuntary, both Lucas and Barnes said they shouldn't be glorified for what they did.
Nicky Barnes: No one should be elevated because of what they did in the drug business. The way we operated - there was a lot of violence, like, ten to twelve homicides, to keep the whole operation running. You can't glorify that. It's not something Frank or I would tell any of our children to get into.

Heroin wreaked a lot of havoc and a lot of pain in the black community. I shouldn't have done it. Maybe I was aware, but I just didn't give a fuck. I wanted to make money, and that's what I did. Looking back, I wouldn't have made those decisions, but it's a hell of a lot different and much easier to sanitize yourself after the fact.

Frank Lucas: I have remorse. I never sold nothing to a kid in the street, but I found out that my people had. I didn't want to sell to kids. I didn't want to make them junkies. I didn't want to be a part of it.

I justify it by saying during my time, I couldn't get a job on Wall Street, not even washing toilets. I went to school three days and the teacher wasn't there two of them. I had to make a living. I didn't want to be just a damn bum in the street. So that's what I did.
Later they talked about hip-hop, Frank Lucas isn't a fan, but he's knows of Diddy.
Nicky Barnes: I never thought anything like this would happen. When hip-hop first started, everybody - I mean the music entrepreneurs - predicted that hip-hop would be dead in five years. They said, "Those motherfuckers ain't gonna make no money." But hip-hop rolled along, and look what they're doing now. They got Jay-Z, Damon Dash, Kanye West, 50 Cent. These guys are doing something legitimate.

Frank Lucas: At least Nick knows the names. I don't know none of them. I know Puffy Combs, because of his father.

Nicky Barnes: Oh, Melvin! Melvin Combs.

Frank Lucas: Melvin used to be at my house a couple of times a week. I'm proud to see Melvin's son like that.
Puffy did say his father was in the streets. Even though he was killed early in his life, he said that's where he got his hustler spirit from.
The best thing Puffy ever did was take that energy to hip-hop and the million other ventures he's into.
Any cog in the music industry machine knows someone who got into hip-hop to be a manager, producer, promoter, rapper, or label owner. When the drug business got hectic or just dried up, a lot of them saw hip-hop as the place where the new 'easy' money was.
Azie talked about it, here you have Nicky Barnes and Frank Lucas lookin on. The cash, and the social life and material things it afforded, is what they really miss. There is no doubt they would love to be in Jay-Z, Diddy or even 50 Cent's shoes.
Just keep the gun orders down to something like BB's or Super Duper Soakers and they wouldn't have to worry about Feds and snitches turning the lights on at the party.