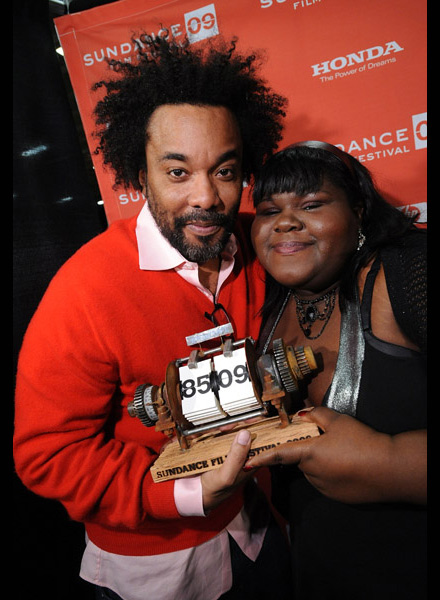 Lee Daniels' "Push: Based on the Novel by Sapphire" was a surprise winner at this year's Sundance Film festival, winning both Grand Jury and Audience awards. I posted about this film when it went into production, Lee Daniels Bringing "Push" to the Big Screen. That was late 2007, since that time, you may have seen a few trailers for movies with the same title. Dakota Fanning's new movie is a Push thing. So you'll understand the new distinction Lee Daniels had to make. This is the Push based on the book.. in which an overweight, illiterate, 16-year-old Harlem girl is impregnated by her father, abused by her mother, is HIV positive, and is just trying to figure out what it all means.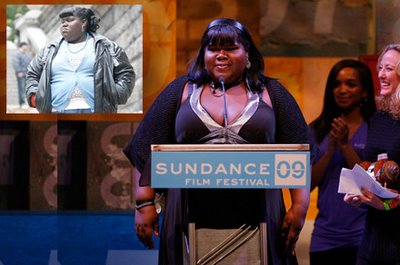 First time actress Gabourey 'Gabby' Sidibe plays 16-year-old, Precious Jones. She auditioned for the role with some encouragement by friends. They told her she fit the part. I'm not sure if that was a compliment or a backslap. Here is Gabourey's audition tape..
Gabourey 'Gabby' Sidibe's Audition Tape
Looking for some familiar faces? Mariah Carey plays a social worker; apparently she's stepped up her Glitter game. Lenny Kravitz is the dirtbag father (Don't quote me on that. I read the book way back when. Is John the name of Precious's father?)
Sherri Shepherd took some time off from the View to cornroll her hair..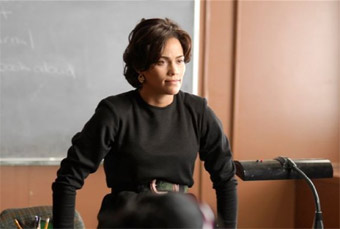 Paula Patton is a teacher, Ms. Rain..
Monique is Precious's abusive mother. She also won a Sundance audience award.
There are nothing but good things being said about this film, yet there is no word on when, where, or how you and I (ie. Joe Public) will be able to see it. After making such a showing at Sundance someone will step in to fund the big screen distribution - even if it only ends up in 'urban' markets and indie theaters.
That said, there is no trailer yet, but here is Lee Daniels with the final push ← intentional punage.
Lee Daniels Talks Push
"This is so important to me because this is speaking for every minority that's in Harlem, that's in Detroit, that's in Watts, that's being abused, that can't read, that's obese and that we turn our back on."