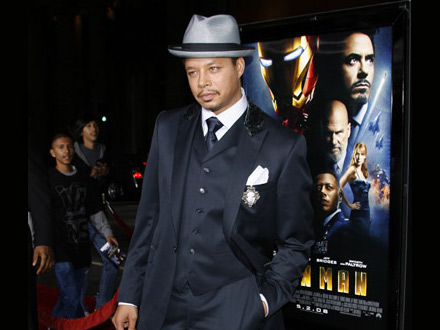 Terrence Howard is bouncing around to promote this weekend's big movie Iron Man. In an interview with Crave he spoke about how Robert Downey Jr. helped him to become a better actor. I'll get to that. First there is this side swipe. Terrence talked about a movie he's directing called Hold on Tight and brought up Hustle and Flow..
"When I was doing the film Hustle and Flow, I wrote a song beyond the other rap songs that I didn't want to put my name on. I should have because I would have had an Oscar.."
Not exactly headline news, but it's interesting, in that "It's Hard Out Here For a Pimp" could be a hint to what this album of his is going to sound like. The album? >> "It's incredible. It really is. It's the best thing I've ever accomplished in my life. I wrote and produced everything on it and if you guys get some time, I'll let you all come by the car and listen to a couple of the tracks. It's a cinematic sound."
For his sake, I hope "A Little Bit More Like Me" (?) is stocked with back-to-back Oscar/Grammy winners.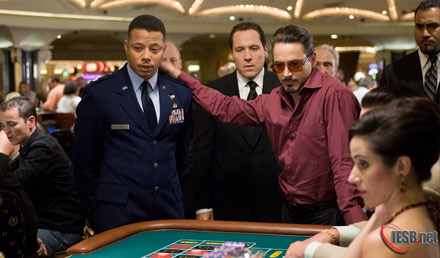 Far more substantive is what Terrence Howard learned from working with Robert Downey Jr.
"Nothing looks so unnatural as an attempt to look natural. You start off, when you're on the outskirts of the business and way over there, you're able to do whatever you want to do because nobody's really checking on you. But to get welcomed inside and then everyone expects so much from you, like for me personally, the last film I did I was so busy trying to be the good actor and not ruffle anything, that I don't think I did the service that I was supposed to do to it.. because as an artist, you're not supposed to fit.
An artist is supposed to stand apart and have a different point of view.
What I've noticed about Robert, Robert is just himself. He has no other point of view except his own. He believes in it whole heartedly and you've got to win him over with convincing argument.
To have that type of backbone in a business where they remove your backbone slowly and surely, after he's been through so much, I love him for that. That's what I'm learning from him."
Apply as necessary.