THE VITAL STATS
Jennifer Johns
Singer
Representing Oakland, California
Place of Residence: California
Current Project: HeavyElectromagneticSoularpoeticJungleHop
Doing Temple with Jennifer Johns

By Camille Jacks

Jennifer Johns Live Performance at the Temple Bar

Featuring tracks from her newly released CD 'HeavyElectromagneticSoularpoeticJungleHop'
The Show

Getting Down, Getting Dirty..
At first glance, she seems an entertainment familiar with a pack of dynamite in her back pocket. You know she can put on a show, you can feel her intensity to make it happen. Her name is announced and the once emptied room is transformed into a packed house of thumping sounds and bumping bodies.
Jennifer calls out for everyone to, "Come closer.." (closer to her, the sound, the stage, the music) and closer they came. The energy became sound. And the sound was 'HeavyElectromagneticSoularPoeticJungleHop'.
The ability to turn an audience into a room full of fans, in just one night, is something of a rarity. Jennifer manages to be bigger than her scene and remain one with the crowd. Introducing live drums and DJ mixes into the show, the music offered a sweat driven Alpha~Psycho~Sexy rhythm of voodoo-like alchemies for your mind and body to groove to.
Giving into her was a must with no regrets.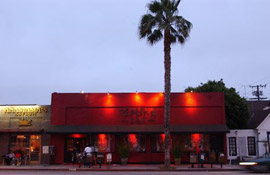 The Temple Bar serves its diverse audience well, roomy enough to bring your friends and dance but intimate enough to make the night memorable. It's a West Side favorite for new Hip-Hop artists to blow the minds of the hungry. Jennifer managed to take it all to yet another level mixing her tribal rhythms into the exotic eastern mystical setting. So much so, I could all but anticipate a live snake show to close the set. If you weren't there, you missed something.
The Album 'HeavyElectromagneticSoularPoeticJungleHop"
A New Horizon in Hip-Hop


'HeavymagneticSoularPoeticJungleHop' is not the first but it is the brightest new contribution to Hip-Hop to date. Balancing the roots of soul and the vision of the next generation. If Jennifer will lead, they will follow.
It's more than music, it's a light down the corridor and a voice for the silence. Jennifer gives Hip-Hop a new fusion and new feeling.
10 tracks starting with a straight for the club sound of Heavy to the back from the other side of the galaxy with Fire, if you can relate, you can gravitate with this CD. Intoxicating and exhilarating this album deserves praise and the artist a higher platform!
The Aftermath/The Second Harvest

Meeting up with Jennifer after the Show
Strangers when we met, I caught up with Jennifer after her set; still totally impressed with her performance but trying to find that middle ground to strike up a conversation, ya know, casually. This involved getting past a rather persistent group of people vying for the chance to connect with her as well. Like bees swarming the hive for their queen. If this was not stardom it was at the very least a loyal cult following.
I reached over heads and pierced through equally determined gazes to grab some attention (along with my best impression of Angie Dickinson). It worked and we agreed to meet by the end of the final set.
As it happened we sat at a small table in the middle of Anastasia's Asylum (named sardonically after the missing Romanov).
She was open and talkative. Surprisingly, sober and relaxed after such a full-force show. I was halfway expecting some residual of polyrhythmic intensity, but no the other side of Jennifer was a caring, determined, free willed young woman really just being in the moment.
We talked mostly about the album, produced by Grammy nominated Spontaneous, on her own label, Nayo Movement Music - meaning "she who brings joy" in Swahili. Their relationship admittedly gives a higher elevation to Jennifer's expression of life, love, and of course Nayo. "Spon's great," Jennifer said. "He comes up with the beats and that's really when the music happens."
Growing up in Oakland, CA was a special and enduring maturation for Jennifer. Who for the solid and loyal person that she is, is also a child of times and a woman on the verge of redefinition. She's matter of fact about school and respectful of her familial relations. She still brightens up at certain memories and experiences of her youth touched upon in the course of our conversation like joining the OYC (Oakland Youth Chorus) at the age of 13; which stood out as the most serving in terms of the actual evolution of her career. It was there that she studied music under the instruction of nationally honored conductors, eventually graduating to the OYC's acapella ensemble, Vocal Motion. "Educationally, I really benefitted the most from being in the OYC," said Jennifer. "It really gave me what I needed. I highly recommend it."
At 17, Jennifer decided to persue a professional career in music and began performing in local clubs in Oakland. After three years she had a buzz going and decided to move to Los Angeles to take it to another level.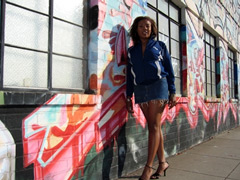 In Los Angeles she joined the Screen Actors Guild and the American Federation of Television and Recording Artists. This allowed her to secure jobs doing voiceover work for commercials: LA Weekly, Macy's, and Pacific Bell. She also interned at Arista and RCA records, intent at learning the inner workings of the music business.
2001 saw Jennifer form Pure.love Entertainment Group, which produced live music and spoken word sessions in Los Angeles night clubs. Backed by the band, Jennifer would find herself freestyling "off the top", slowly figuring out the type of sound that she wanted to create. The fanbase of Pure.love spurred her retreat to Seattle, Washington to record an album at a studio, free of charge for two weeks. Though the album was recorded during that time, she set her bags down in Seattle for four months. Again, doing live shows and opening slots for other artists, once with De La Soul.
Traveling back to Oakland, this summer she was invited to tour overseas with Blackalicious - as a backup singer. Jennifer was hesistant to take the offer because she had her own album out. Gift of Gab told her that he loved her album and would incorporate her music into the show. She agreed and off she was for a six week tour of Europe. They visted 10 countries and opened for Mary J Blige and Chaka Khan, and mentioned being in the company of such artists as Black Eyed Peas and The Roots. When asked what her favorite city in Europe was she thought for a moment and said, "Zurich.. I liked the Graffiti, let's face it I'm from Oakland and that is something that is familiar to me."
On return she wanted to keep the momentum going, this October she booked a tour of the West Coast where she has performed with the likes of Mystic and John Legend.
Currently distributed by Collectiv Records, she plans to re-release her album on a major label in April 2005.
Most of Hip-Hop's influences are noted in the struggles, the injustices, the tragedies, and devastations in the artist's experience. Perhaps this is the key difference with 'HeavyElectromagneticSoularPoeticJungleHop'. You get the strong sense in every way, that Jennifer has had her fair share of all of the above. But the music takes her and everyone else who is willing to a higher, almost enlightened place. A place where real joy still exists and real understanding breeds strength, courage, and a reason to celebrate again.
She is wildly honest about her commitment to Hip-Hop and is a fan as well. "I really like Jay Z because he always tells you where he's at. He's real."
We laughed quickly about all of her comparisons in the world of music and when I asked her pointedly to respond to what makes the similarities to other artists irrelevant she only replied warmly in that low manicured voice that's addictive and said," 'I'm me; I'm Jennifer."
And that's 'HeavyElectromagneticSoularPoeticJungleHop'. Truth.

It just doesn't get better than the real thing.
For more on Jennifer see..
jenniferjohns.com
---------------------
WHUDAT.com @ December 2004
.