Hip-Hop Artist of the Year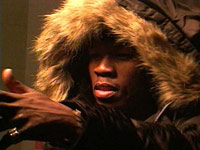 50 Cent
Through late 2002, through the summer of 2003, hip-hop was supported by one man.. 50 Cent. He entered the game, riding the back of controversy and beef, playing it up to the fullest and people ate it up like M&Ms. Unlike the talk of a majority of "gangsta/thug" rappers, 50's story somehow rang true.. Partially because of being shot himself, and also because the people he abused on record rarely struck back. He must really be a bad man (that was the general feeling.) From the streets of Anyhood, USA, to Hollywood, and around the globe, the name 50 Cent was on people's lips. In the short span of eight months, he went from living in the hood to buying Mike Tyson's multi-million dollar mansion. And who can forget the Vivica Fox shoutout, which resulted in a brief J.Lo-esque moment. He got rich in 03', in 04' he'll have to evolve to maintain that status.
Hip-Hop Album of the Year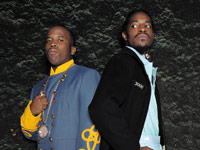 Outkast "SpeakerBoxxx/The Love Below"
When it's all said and done Outkast will go down as one of most consistent groups in hip-hop history. With each of their five albums they have managed to straddle the line between expansive personal expression and sustaining marketability. When an artist no longer feels in touch with the music he's been successful with in the past, the danger is he will go off on this idiosyncratic excursion that no one gets.. Outkast found themselves in that situation after the success of
Stankonia
: Andre wanted to do his artistic muse thing; Big Boi wanted to stick closer to the stink. With neither wanting to budge they decided to package their individual ideas on separate but equal discs. The result was an album chock full of hip-hop, that's way above the bar. Funny thing is, even though it's a double CD, most people have yet to get to Big Boi's disc.
Hip-Hop Single of the Year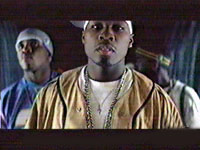 50 Cent "In Da Club"
Right after "Wanksta" swept mixtape land "In Da Club" hit the airwaves and shotput 50 to the stardom he enjoys today. You couldn't walk into a club and NOT hear it. As a matter of fact you'd hear it 3, 4, maybe 5 times, if the DJ was lazy. Supported by the patented Dr. Dre sound, 50's lazy flow, and party and bullshit lyrics - two things that are easy to relate to - he had people across the globe mouthing the words like it was a 60's Sing-A-long with Mitch record. "You can find me in the club, bottle full of bub/ Look mami I got the X if you into taking drugs/ I'm into having sex, I ain't into making love/ So come give me a hug if you into getting rubbed" On close inspection this song proves that if put to the right beat, combined with a catchy chorus, you can say anything and get away with it. Turn it up loud, make sure the bass is cranked.. pass me my drink.
Crazy Club Single of the Year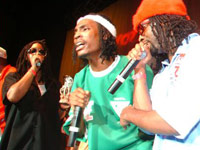 Lil Jon & The Eastside Boyz feat. Ying Yang Twins "Get Low"
If we're talking 2003.. we're also talking about the rise of the New South. Can't really call it new, though, they've been doing the crunk thing on the very dl, for a very long time. The door was opened due to the lack of energy from any other artists, besides 50 and Kast. Once the weather got hot, before you could say, "Is he sporting a mouthful of gold teeth?", the crunk sound was in your living room and ALL up in the clubs. When it came to serious spill your drink music, nothing could touch "Get Low." Lil Jon is already hyper, when he recruited the Ying Yang Twins it just made the situation even more unstable. And to reinforce my previous point.. People would sing this song not knowing what the hell the song was about. Get Low equals getting head. Skeet equals.. well guess. All up on your radio 24-7, right past the FCC.. Hah ha.
The Undocumented Remix of the Year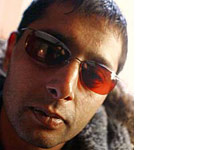 Panjabi MC feat. Jay-Z "Beware of the Boyz"
Early 2003, with Curtis Jackson on full blast and kicking Murder INC where it hurts - in their credibility - Jay-Z made a purposeful effort not to get run over by the G-Unit truck. To secure his position as the reigning mic champion of the world, a back to basics plan was put in place: hit the mixtapes, make it more than music by signing the first rapper sneaker deal, more mixtapes, sleep with the enemy aka go on tour and do promotion with 50 Cent, release a new album, and sell out the hometown spot, Madison Square Garden. Somewhere between frustration with fickle fans and not feeling the scene, he decided he had nothing more to prove.. and retired. Rewinding the tape.. the first post Blueprint 2, back to basics song to catch the ear of the street had Jay-Z rapping over the Knight Rider theme with an indian MC chanting/rapping on the chorus. With the US in the midst of Operation Iraqi Freedom, it was a bizarre, but timely combination. The song saved Jay-Z from sinking into the quicksand of lack-o-hits.. got his engine started again, but it wasn't promoted beyond the buzz on radio. Sometimes a goof-around thing can get bigger than expected, even with the heat it generates, there is no intention of giving the lesser known artist a career boost.. So it's played on radio without pushing the public to buy it. You can find it if you look, but it's almost as if it didn't exist.. No video, no interviews, barely publicized, we call this the undocumented remix. And Panjabi? He can walk down the street unnoticed, other than the occasional.."Hey, look it's Sean Paul!"
The Pop Tart Single - Even Grandma Bopped to It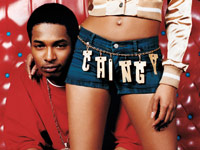 Chingy "Right Thurr"
The first time I saw Chingy's "Right Thurr" video you couldn't tell me that the girls in the background were just some non-dancing chickens cluck, cluckin all off beat. It was really funny and sad. Come to find out they were doing the Chickenhead dance, that explained the retarded movements.. now it was kinda cool, considering there are no dances in hip-hop these days. It was totally a regional, female thing though.. Like the unique dance, Chingy came with the unique slang.. or rather slurr. His phrasing of right there, pushed this song to the top of every pop radio station. It was the fun, safe, friendly hip-hop song of the summer.. the counterpart to the thug movement Chingy got along by simply being a horny teenager. We'll see if he can follow it up with another album.. Hah, ya'll said Grandma was bopping to it ..imagine her doing the Chickenhead.
Breakout Hip-Hop Artist on the Year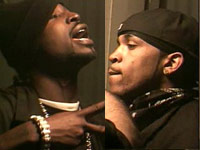 G-Unit
G-G-G-G-Gunit. You've heard that fifty thousand times, and you know who they are. Unlike most spinoff squads, they actually had enough presence to support the main man in charge. Most of the time when the rap ball is passed, the supporting players can't make the layup, and sure can't dunk.. but Lloyd Banks with his punchlines and marbled flow was able to hit bank shots twice on Whoo Kid's Money in the Bank series 1 & 2 mixtapes.. Both acted as solo shine time, and he laced them lovely. Young Buck, subbing for Tony Yayo, stood out for being from the south and adding a reckless thug element to the crew. Both of them were able to give 50 a longer lifespan than he might have had on his own. With the release of the G-Unit album and it's so so sound, it's clear they need more work in the lab, but for now they get the award hands down.
Slept on Hip-Hop Album of the Year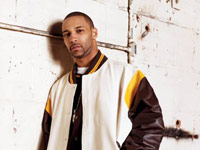 Joe Budden "Joe Budden"
Joe Budden almost made it into the What Happened category. He had a nice start with "Pump It Up", but the song failed to generate the type of numbers that his talent is worthy of. Call it getting caught up in the Def Jam machinery, call it missed opportunity by not releasing "Focus" six months before "Pump it Up".. actually that would be the Def Jam thing times two. Regardless of the marketing mistakes, the album showed that he had solid skills and could create songs. I gave it a lackluster album review, but did play it more than once over the summer.. his story of overcoming drug addiction didn't generate wide interest in his music, and may have contributed to the confusion in the final product.. going from party tracks to stories of confrontation with real life issues wasn't what was expected from him. Even if the album isn't crazy.. the skills get this.
The What Happened Award
Lumidee
We had Lil Miss Lumidee on the quickie page since forever.. just worked out that way. At the time she had the hottest song in NYC, "Never Leave." During a radio interview Fabolous called the station to offer a verse for the remix. Soon after, Busta Rhymes, the collabo king, made a connect as well. The three got together for the video, which was a huge move for a chick whose name wasn't even in the chamber. No record companies had heard of her; the song was the by product of a late night studio session that caught the ear of DJs and clubgoers. The heat got her a record deal with Universal Records, it was time to see what else she had in her. Recording furiously to capitalize on the moment, two months later the album dropped like shit in the forest. The realization that she couldn't sing came to light.. at least she'll have a cool story to tell her grandkids.
The Most Disturbing Trend of the Year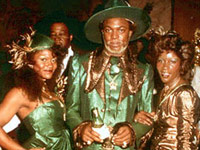 Pimpin' Going Mainstream
That looks like a picture from some crazy Halloween party, but it's an actual flick from one of the infamous pimp celebration affairs, otherwise known as The Players Ball. Yes, kiddies this is what a P.I.M.P. looks like. This year calling yourself a pimp, drinking out of pimp cups, and any floss that could be tabbed as Mackalocious, became as normal as a bus driver, as inspirational as a Fortune 500 CEO. Magic Don Juan, a former Chicago pimp, was at award shows with Snoop, looking fresh off a box of Lucky Charms - is he pimpin Snoop? The reality of the pimp game is all about taking advantage of people. Nothing beautiful, fun or romantic about it. Having the gift of gab, money, and women on your arm are elements of power that appeal to male and females alike.. Similar to the word nigger, pimp etymology is all spaghettied up.
R&B Artist of the Year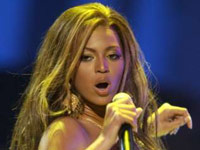 Beyonce
There were only two nominees in this category, which made it an even tougher decision; both Beyonce and R. Kelly dominated the music scene.. by your choice and mine.. Beyonce is clearly the big winner. She had all the girls doing her "uh oh, uh oh" dance, got crazy in love with the top rapper in the game, delivered radio hits in abundance, the look in her videos, concerts, and award show performances put her on another level. Lets tag her the It girl... some would say diva. That has a grandma sound though.. like she's been singing for 20 years. It Girl rolls off the tongue with ease and really describes who Beyonce was the past year. It almost didn't happen.. coming off the fringes of
Austin Power's Goldmember
&nbsp she was going for a totally different look. A 2002 Vibe magazine interview mentioned that she had stopped perming her hair, eased up on the make-up and was refashioning herself to do an earthy, neo-soul momma thing.. "I don't want to do traditional R&B for my album. I want to grow as a writer; I need a challenge. It will be a testimonial, a journal," said Beyonce. When "Work it Out," the single from the Goldmember soundtrack got an indifferent reaction from Destiny Child fans, that new look was put to rest. It's easy to see Poppa Knowles speed dialing the beauty shop for a quick fast appointment, on the ride over he'd be rapping some Jigga wisdom in her ear.. "To tell the truth I'd like to rhyme like common sense, but I sold 5 mil, I haven't rhymed like common since."
R&B Album of the Year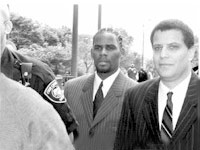 R. Kelly "Chocolate Factory"
R. Kelly isn't supposed to be here, after being caught up in the young thing, pee-pee videotape scandal, good money was bet on his career being damaged for years. Even his supporters had to admit that songs he wrote like "Age Ain't Nothing But a Number" and "Your Body's Calling" suddenly had truth serum splashed on them. His first reaction was to take it to church and search for redemption. Before the pastor could say, "Amen," Kelly was in the studio creating the same nasty boy songs he is known for.. in other words, he embraced the freak in him. The result was an album free of guilt, and full of the hardest hitting R&B tracks to drop this year. When he says Chocolate Factory, he literally means the factory.. he churned out sample free, hook heavy, soulful records at an effortless pace, enough to make you forget
that
&nbsp case.
R&B Single of the Year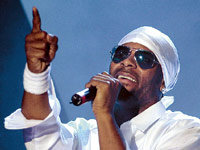 R. Kelly "Step in the Name of Love"
"It's the ambiguity between inside and out," those are the words of Larry Ellison, the 2nd richest man in the world. He was talking about keeping people guessing, not knowing where or how your gonna come next. It's what R. Kelly does when he skips tracks going from the booty hop joints, to believing he can fly. Mid-summer he hit that button when "Step in the Name of Love" grooved through speakers nationwide. It was on some definite, get your grown man on ish. Created in five hours, after his uncle challenged him to make a song about the Chicago dance thing, stepping.. Kelly came out of the studio with a song that blew his uncle's mind, and from now until ever will get people running to the dancefloor. It's this kind of music that makes his sound untouchable..
Slept on R&B Album of the Year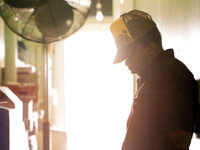 Anthony Hamilton "Comin From Where I'm From"
I recently lost my CD case, all at once *poof* 12 joints into the land of the lost. One of the CDs was Anthony Hamilton.. which I was pissed about cause I was just getting into it. AH was all happy though, that's one more CD sold at the Virgin Megastore. Anthony Hamilton is signed to Jermaine Dupri's SoSo Def label, which you think would have benefited him big time, it was more of an odd match than anything. Anthony Hamilton has a strong, old soul flavor to him.. far removed from JD's thing. The album was solid, but with no idea of how to market it, the CD sold through word of mouth. There is hardly a bad review to be found.. but if your ears are fine-tuned to the Neptune sound, it would be hard to get into. Many men and women put in the good word for this award though.. so Hamilton can now proudly say he copped a whudat.
Media Madness of the Year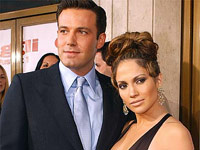 J.Lo and Ben Affleck
They were on the pages of every newspaper and gossip rag in the country, seven days a week, nine months of the year. But what exactly did Jennifer Lopez or Ben Affleck do to deserve the SWAT team of paparazzi that hunted them down? Well, they put it out there. Jennifer Lopez and her publicity team probably thought it was a great move for her career, stepping away from the backup dancer and hooking up with a Hollywood sweetheart. Not to say there weren't genuine feelings involved, but the initial all access granted passes were handed out freely by her people. There is such a thing as too much of a good thing, the same people that love you, eventually get sick of seeing you every day. When Jen and Ben reached to turn off the pipe.. it was too late. The media had found their daily bread and would jump out of the bushes to grab a crumb, crust, whatever scoop they could find. Which only created more visibility, which only created more backlash. The damage was so great that
Gigli
&nbsp will go down as one of the biggest bombs in film history. To make things worse, the big romance didn't even have a happy ending. The wedding was postponed, and eventually called off altogether. Now Jennifer is in seclusion (rumored to be dancing in clubs with her ex-boyfriend P. Diddy) and Ben Affleck has dropped the suits, for him it's back to the grungy, don't give a damn man he used to be.
The Video of the Year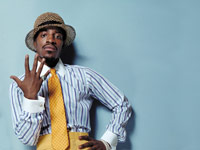 Outkast (Andre3000) "Hey Ya"
This is arguably the song of the year.. over "In Da Club".. but we'll crown it in the video of the year category because the visuals helped to tie together the wacky sound. I can't recall one hip-hop video that features a band consisting of one person tripled up Nutty Professor style. There is Andre taking it back to the 50's, smiling at the camera, dressed in his many styles, just on his own page.. with the girls in the video screaming and fainting like he's Frankie Vali it tickled the subliminal into thinking that hey this guy is really killing it. Toss in that dance, a male GQ version of the Chickenhead dance, the shake it like a polaroid line complete with waving pictures, and you have a meshing of song and video that as smooth as butter baby. The best thing about it, is that Big Boi is a part of the action.. as Andre elevates his game, it keeps them linked up as a group.
Dumb Ass Move Award
Operation Iraqi Freedom - Check the headlines.. No WMDS, no Al-Qaeda connection, no 9-11 connection, and US soldiers are stuck policing a country that is far from being a stable. Not to mention the $80 billion we are committed to spending on... Hey, who the hell gets that money anyway? In accounting you learn two fundamentals: debits and credits. When the 80 billion leaves the govt bank account (debit), someone has to deposit it in a reserve account (credit), from that account bills get paid (debit), for services rendered, someone puts that money in their pocket (credit). The question is who gets that final credit?
Quote of the Year
Jessica Simpson - "Is this chicken what I have, or is this fish? I know it's tuna, but it says chicken by the sea"
R.I.P.
To all of our fallen musical brothers and sisters.. One love
Soulja Slim
Barry White
Jam Master Jay
Lisa "Left Eye" Lopes
Aaliyah
Big Pun
Poetic (Gravediggas)
Big L
DJ Screw
Notorious B.I.G.
2Pac
Eazy-E
Cowboy (Grandmaster Flash and the Furious 5)