The Year of a Handful of Hits..
2004 continued the pattern of a few artists doing big things and the rest being shoved to the sidelines, or not released at all. Some call it the death of hip-hop, I call it a confusion as to which way to proceed. With the continued popularity of the internet and downloading by the gigabyte, companies have battened down the hatches, hoping to plug the holes on income streams bleeding red. The result has been to delay the release of albums or not developing new artists out of fear that they'll lose their investments from some slick kid with an itchy mouse finger.
There is more than tight wallets responsible for the lack of new, exciting music. How about new and exciting artists? There are way too many people willing to tell you the same thing that the next man said. It's like a syndicated AP news story printed in ten newspapers, just because there is a different name on the masthead it doesn't make the story read better. Has the well run dry on the hood stories? Could be.
On another level an understanding of media in the depths of Marshall Mcluhan is necessary to understand the situation at hand. To put it simply: technology connects everyone at the hip, and the way it's spread from the time that he wrote his books, nothing is breaking news.
Forget all that though.. this is award time and some artists did make noise last year. Kanye West, Alicia Keys, Usher.. At the tail end of the year we had John Legend and T.I. who didn't win awards, but get an honorable mention here. Their projects were too new to make the cut, maybe next year. With that said, here are this year's winners.. remember, you voted for them.
*ehem* I don't know what's up with that picture, a chick's backside?
Hip-Hop Artist of the Year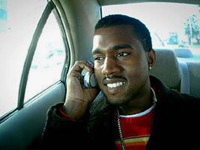 Kanye West
Ya'll other little rappers never had a chance, from the Grammys to the American Music Awards to Billboard and soon BET, Kanye West is carrying awards in both hands and stuffing three more in his backpack. Who's the brave soul that would dare to vote against this man? You know him/her? Give me their name and cell phone digits because Mr. West would like to have a word with them. Kanye West is not only the artist of the year, he's the best hip-hop artist to ever pick up a microphone. He's the best producer to ever chop a sample and whirl it into miracle whip. His album is a five mic classic. His wordplay is exquisite. He's a helluva good lookin guy - future model? actor? Definitely a role model for the youth. Is there anything that he cannot do? Don't think so. *End Quote* Insert convo.. Kanye West: You gonna print all of that? Me: Anything for the master.
Hip-Hop Album of the Year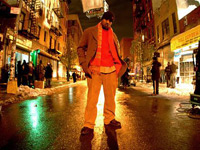 Kanye West "The College Dropout"
I've got something to confess, College Dropout has spun in my CD player less than ten times this year. It's not something I'm playing on the regular. Still, I can agree with the consensus of the whudat familia: this is definitely the album of the year.
It was written
.. "Many times we talk about the need for rappers to say something besides gleam and rings in their songs, here we have the ehem.. blueprint.. The beauty of the disc is that there is no false pretense: he's not overly negative or positive.. this is a balanced dude who takes pleasure in poking fun at people at both extremes of life.. let's just say it's the decision to be yourself whether it's popular or not.. you, do you, with no fear of looking uncool.." The mistake I made was saying that this was the next stage in hip-hop, as if others would follow. That ain't gonna happen.
Hip-Hop Single of the Year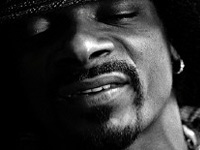 Snoop feat. Pharrell "Drop it Like it's Hot"
One of the most rotated songs last year was Kanye's "Jesus Walks", a highly original song that stood outside the formulaic club and chick songs that dominate radio. Snoop and Pharrell knocked it out the box on the strength of one of the most catchy choruses to come along in a long time "Snooooooooooooooo ooooo ooop!" .. "Drop it Like it's Hot" "Drop it Like it's Hot" Hah! It doesn't take much to grab the ear. Lay that over a beat that straddles the line between a pimp strut and the shaking of so much phat ass at a black beach weekend, and you have a hit record to be remembered. I always wondered what this would have sounded like with Jay-Z and Pharrell - same beat, not that remix that's floating around the net. You want to talk monster songs? As it is, Snoop gets off his best performance of the year, the kind that gets him the whudat.
Crazy Club Single of the Year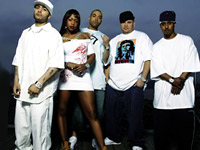 Terror Squad - "Lean Back"
Fat Joe has been in the game for over ten years, as the years go by, instead of getting worn out he seems to be getting better. Last summer, I was watching the "Lean Back" video, Fat Joe's laying out his first verse and I had to wonder if he wrote the thing. He has never sounded as nimble as he does on this song, and it really is all about Joe. Scott Storch supplied him with a beat that isn't exactly groundbreaking - it's just a loop that breezes along. Somehow Joe makes it work. Then there's Remy Martin who has a presence that overshadows her actual skills, and you have a song that rocked clubs across the map. The song didn't translate into huge sales, maybe that's because it's officially a Terror Squad song. Anyone looking for the record had to pick up the TS album, had it been a lead in for a Fat Joe album he may have seen some platinum.
Breakout Hip-Hop Artist on the Year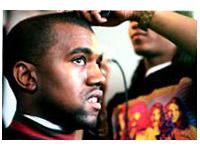 Kanye West
Kanye, Kanye, Kanye, it wasn't but a year ago that you would have asked, "Who is that?" Here we are a little over a year later and people know him on a first name basis. It all started with "Through the Wire", the video seemed to be on everytime I flipped to BET. It was quickly piggybacked with "Slow Jamz", the "is that Jamie Foxx?" Twista collabo. It was the 1-2 punch that sparked the huge first week sales of his album. You've heard the story of Roc-A-Fella pretty much sleeping on him, lucky for them, they were wrong. Other than Jay-Z, he's the only Roc artist that has been successful enough to secure the label's future. Lucky for us, he provided the lone bright spot in a year devoid of voices worth listening to. He'll attempt to prove that it wasn't a fluke with his sophomore effort "Late Registration". Bet against him at your own risk.
Slept on Hip-Hop Album of the Year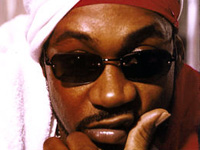 Ghostface "The Pretty Toney Album"
Ghostface edged out Eight Ball & MJG for this year's Slept On Award; it's the second time that he's won. Unfortunately it's because the labels don't know how to market him. What he needs to do is shoot at the cops, get shot, or get arrested for running a million dollar narcotics ring. Then all his wild ranting and raving would make sense to the masses. "The Pretty Toney Album" wasn't classic material, there were dull spots and some skits that stunk, but it stood out for the raw energy behind the tracks. From the insanely brutal "Run" to "Biscuits" to "Be This Way" this is how rappers didn't get down last year. But they were listening, no doubt in my mind that 50 used the beat for "I Don't Need Em" because he was rocking to Ghost's "Metal Lungies." With President Carter at Def Jam, maybe Ghost will get the push he needs.
The What Happened Award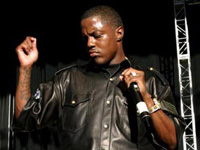 Mase "Welcome Back"
It's hard enough getting to the top, but to give it all up once you get there is even harder. Who the hell wants to walk backwards? You're bound to trip over things. Mase gave up his career to satisfy a spiritual call to serve the Lord. The lifestyle of women and money and liquor and jewels had him stumbling down Lost Avenue. He tacked "Pastor" on to his name, moved to Atlanta and wasn't heard from for years. That's why it was strange watching him smiling and dancing in the "Welcome Back" video like he never left. Even stranger to see him at the MTV Music Awards next to Puffy, in the thick of sin.. I guess.. back where he came from. He said he wasn't doing it for cash, it was to show people that you can have the "look" of success without getting trapped in the negative lifestyle. True or not, no one bought it, and no one bought the album either. Some welcome.
R&B Artist of the Year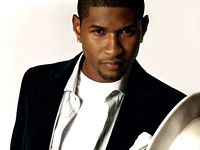 Usher
There used to be a male and female R&B artist of the year, but that would have been way too simple.. one for Alicia Keys and the other for Usher. There was nothing else on the shelf. We put the two of them face to face My Boo style for a showdown between the undisputed top artists in their category. A battle of the sexes. The winner on all cards was Mr. Entertainment, Mr. Shake em' Bake Em, Mr. Keep Em Coming, Usher Raymond IV. It's amazing how he has been able to grow from a 14-year-old baby faced singer to become such a powerful force on the music scene without as much as a hiccup in his image. He never went through the awkward growth stage that befalls many child stars. He disappears for 2 or 3 years, returning just before you can ask where he's been. All you notice is a few extra chin hairs. Like the goatee?
R&B Album of the Year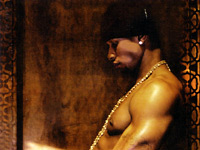 Usher "Confessions"
8 million and counting, it isn't even about reaching for a hit, Usher simply delivers quality music each time out. The cash registers ring by nature of giving his best on every song. Confessions wasn't lacking in clever marketing hooks, the breakup between Usher and Chilli had everyone wondering who and what he was talking about. Was he really telling it all, was it a true confession? On "Throwback" he shakes things up by saying he wants his girl back, how he never should have left her. Was that girl Chilli? Lots of questions that filled message boards with rumors enough to keep the disc spinning to the last track. It wasn't all scandal and gossip, weaved between that theme was an expertly crafted album, that has one fault.. the gotdamn security protection on the CD. You can't play it on a PC without all kinds of software being installed. Bah!
R&B Single of the Year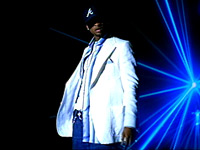 Usher "Yeah"
Ask your favorite artist about their most popular songs, nine times out of ten.. I did the research.. they'll tell you that they were recorded at the last minute. Impromptu sessions in the studio, a moment's inspiration recorded to a portable recorder and later plugged in at the studio. Sometimes the record that becomes a hit wasn't supposed to be the single in the first place. That was the case with "Yeah". It was leaked to take advantage of the Lil Jon/Ludacris connection, a little something for the streets, the song caught on better than they had expected. The next thing you know, Usher is spinning and popping underneath blue lights performing the biggest song of the year. It's the ultimate club track that crosses borders from here to Bangladesh. Yeah, even the Bin Ladians get down to music like this. Take that and rewind it back!
Media Madness of the Year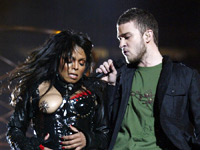 Janet Jackson Nipple Flash
Last year's awards was introduced with a mention of Janet Jackson's nipple ring fling, but the effects of that incident hadn't yet settled in. I'm not one to believe the wardrobe malfunction theory. I'm more inclined to believe that it was a misguided attempt to create a moment. After all her album was to be released the following week, let's get the tongues wagging. No one would have believed that it would have had such deep ramifications. But it cut deep, the FCC swept in to save all the little children of America from further acts of depravity. Meetings were held, executives answered before nationally televised panels. With one big twist of the knob the FCC raised indecency fines for not only TV, but radio as well, and have toughened up the rules. It's one reason why Howard Stern will no longer be heard on FM radio. All that for a nipple.
The Video of the Year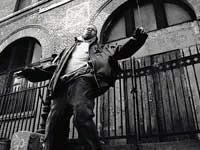 Jay-Z "99 Problems"
So this is how it ends, huh? All out in a hail of bullets. It's the life of a gangsta who stays in the game too long: you either end up dead or in jail. Jay-Z was smart enough to evade that tragic ending. He documented his life and beliefs to music.. and then killed himself. What a way to go. In what is officially the last Jay-Z video, he took everything old school: black and white film, grabbed Rick Rubin - LL Cool J's first producer, and took the cameras to his old apartment in Marcy projects. Forsaking traditional videos, Jay grabbed slowed down shots of hood living and melded them to a storyline that leads to his death. It's an arty farty combination that makes this one of his best videos ever. No kidding :T Predicting one's death didn't prove to be a lucky charm for 2Pac or Biggie, but Jay-Z has seemed to gained a new life with his.
How Could We Forget..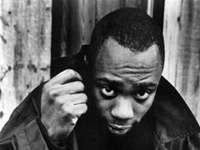 Dave Chappelle
In the early nineties, I used to like hanging out in Washington Square Park on weekends. There was a group of Caribbean street gymnasts who were always entertaining. They would draw a huge crowd and collected dollar bills in a hat as they walked around the circle of people watching the show (it was better than that sounds, trust me.) There was also this comedian named Albert, he looked a lot like Morgan Freeman. This guy was always in the park and always funny, but he lost his future to a nasty drug habit. The park was his regular gig. A couple of times this skinny kid with a nerdy delivery would grab a spot near a tree and proceed to get his joke on. Like the gymnasts, his pay was a dollar from whomever felt charitable that day. Dude surely wasn't doing big things.
Fast forward to 2005, last year that same skinny kid signed a 50 million dollar deal with Comedy Central for the third and fourth season of his self-titled show; Dave Chappelle has definitely come a long way. His sketch show birthed some unforgettable characters, but the one that he'll go to the dirt with is a parody of Rick James. From which gives rise to the #1 quote of 2004.
Quote of the Year
Dave Chapelle - "I'm Rick James, Bitch!"
R.I.P.
To all of our fallen musical brothers and sisters.. One love
Ossie Davis
Ray Charles
Isabel Sanford
Mac Dre
Rick James
Soulja Slim
Barry White
Jam Master Jay
Lisa "Left Eye" Lopes
Aaliyah
Big Pun
Poetic (Gravediggas)
Big L
DJ Screw
Notorious B.I.G.
2Pac
Eazy-E
Cowboy (Grandmaster Flash and the Furious 5)